"Exceeds your expectations"
Thursday, January 4, 2018 • Tamil Comments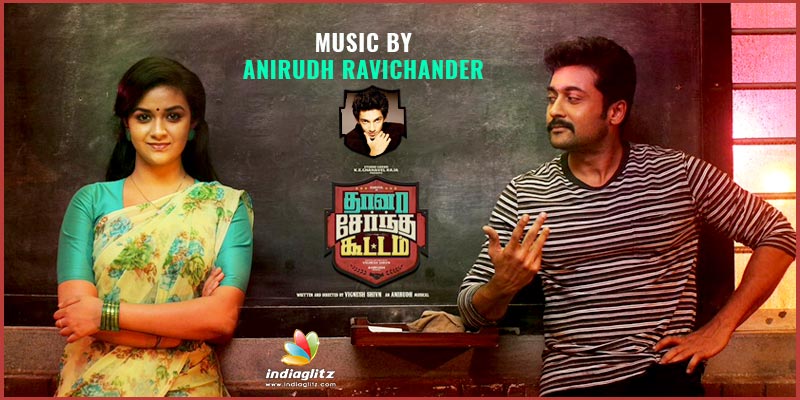 Album: "Thaana Serndha Koottam"
Composer : Anirudh
No.of Tracks: 5
Album release date: January 3, 2018
"Anirudh's charismatic album exceeds your expectations"
We love Anirudh as a composer, as a performer with his fans celebrating him as a music sensation. While Anirudh has introduced his music loving fans to his style of experimentation without making it an eccentric job, and that is why his numbers scream a unique flavour to it. His 'Thaana Serndha Koottam' album has become the talk of the town with 'Sodakku' and 'Peela Peela' having impressed one and all. Will his magic work for Suriya and the film is to be examined.
Naana Thaana
Voices: Anirudh
Lyricist: Vignesh Shivn Music: Anirudh
Naana Thaana has all that you expect of a Anirudh number. It is a fun mixture of strings, percussion and some catchy vocals armed with Vignesh's lucid lines. Anirudh's hiccups here and there are as adorable as the song's folkish vibe. Are we getting used to Anirudh's familiar vocal strains which form the motif of his most compositions? But all the more reason you might grow into enjoying this song.
Sodakku
Voices: Anthony Dasan
Lyricist: Mani Amudhavan, Vignesh Shivn Music: Anirudh
Anthony Dasan steals the thunder with his powerful vocal throw and striking inflections in this 'kuthu' style number. Sodakku is also racy and aspirational with its well written lyrics. Let's not push this song away as one another jolly good number. As much as it is fun and frolic, it is a celebration of the rise against the establishment if you lend more of your attention to the lyrics. Sodakku is filled with verve, soon to be at the top of your morning playlist.
Peela Peela
Voices: Nakash Aziz, Jassie Gift, Mali
Lyricist: Vignesh Shivn Music: Anirudh
We know Anirudh's penchant for experimentation and this is apparent in Peela Peela. The track which is fitting of a carnival gala throbs with energy right off the bat. There is no 'Anirudh' in this song- he is taking us for an experimental ride with him in the backseat. Which only means Anirudh's ever growing versatility is strongly accentuated in this song. Peela is a festive baila styled number brimming with celebratory joy.
Thaana Serndha Koottam
Voices: Vignesh Shivn, Anirudh
Lyricist: Vignesh Shivn Music: Anirudh
With a 'retro'ish call forward in the beginning, Anirudh's composition dissolves into swagger and cool that is fiitting to be the film's title track. Vignesh Shivn's matter of fact lyrics that tout inspiration are something to look out for in the track. Anirudh aces it with ease, especially his vocal intonations, the children chorus towards the end. This track is a justified addition to the album.
Engae Endru Povathu
Voices: Anirudh, Shakthisree Gopalan
Lyricist: Thamarai Music: Anirudh
Anirudh is startling in his ability to shock his listeners into a soulful trance. Engae Endru Povathu is the essence of 'Thaana Serndha Koottam' album with its once low key portions rising into a vigorous follow up. Shakthisree Gopalan fits like a glove into the soul number and complements Anirudh's wavering yet enjoyable transitions. The beginning grand piano accompaniments are also something to look out for in this track, which hits the right notes near to your heart.
IG Pick of the album: Sodakku
Verdict: An essential prescription in your playlist if you are up for a fun, energetic musical ride.
Rating: 3/5