Trailblazing and sets the bar high
Friday, January 5, 2018 • Tamil Comments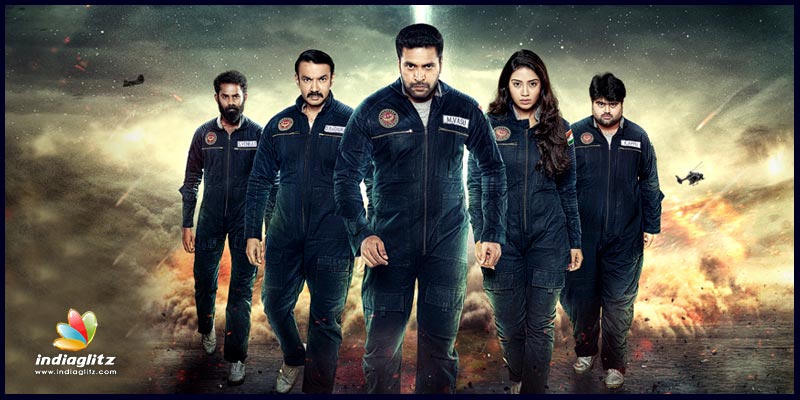 Album: 'Tik Tik Tik'
Composer: D.Imman
No.of Tracks: 8
Release date: Tentative
Trailblazing and sets the bar high
'Tik Tik Tik' has raked in enormous following carrying the tag of being the country's first ever space drama. The album marks a special milestone in composer Imman's career as this is his 100th film. With a total of eight tracks to boast of, two of them are actually Karaoke versions which should gain considerable engagement from music lovers. Smart. We are in unchartered territories as far as how music will treated for a space film in Tamil cinema. But will the album soar up to standards that will be obviously expected by an audience that is used to international space flicks?
Tik Tik Tik (Title Track)
Composer: D.Imman
Voices: Yuvan Shankar Raja, Yogi B, Sunitha Sarathy
Lyricist: Madhan Karky, Yogi B
Imman's title track is a resplendent combination of racy rap, energetic vocal throws accentuated by mild chorus. Tik Tik Tik seems like a forced marriage of rap and conventional vocals, but the accompanying elements give it a much needed vibe that correlates with the film's theme (without which it would lose the status of being the title track). You might want to refer a dictionary to grasp Madhan's authentic Tamil, but then isn't it quite a feat to have puritan Tamil words in a space film's title track? Save the out-of-place drum beats, Tik Tik Tik has every right to be justified as the title track.
Kurumba (Father's love)
Composer: D.Imman
Voices: Sid Sriram
Lyricist: Madhan Karky
Is Kurumba the answer to a much needed father-son anthem that contemporary film music has been facing a dearth in? Yes, quite so. But not just like that, Kurumba is a meticulously crafted mixture of beautiful lyrics, vocals and composition. From start to end, Kurumba sways with its emotional quotient. Look out for short stints of string music that serve as a springboard for the song's pace. No surprise if this becomes the next adored father-son anthem.
Vinveera
Composer: D.Imman
Voices: Ranjit, Sri Rascol
Lyricist: Madhan Karky, Sri Rascol
The song gains traction at the beginning of the Ranjit's vocal gelling along with Sri Rascol's intermittent raps. There's a 'Tamizha' reference and the track is brimming with inspirational lines thanks to Karky. Vinveera however is bland at only a few junctures and striking in majority of its portions. Vinveera is the Monday morning pill you've been waiting for.
Kurumba Reprise (Mother's Love)
Composer: D.Imman
Voices: Mirthula Siva
Lyricist: Madhan Karky
Imman seems not content with Kurumba's piercing brilliance. Imman plays the musical 'kurumba' as he comes back to tease us again in the Reprise version, with Mirthula Siva's 'out of the world' vocals. String music and whistle portions help the song keep its verve while Mirthula is given all the space to do her magic. Kurumba will stay with you and will be the 'hum' when lie down to sleep.
Race Against Time
Composer: D.Imman
Genre: Instrumental/Synth
Given its a space film, Imman has the challenge(and the opportunity) to not make a regional film lose its essence while catering to an international standard. The composer's attempt to accomplish this is apparent from the 'not-too-sophisticated' approach of the track. For a theme like track, this packs ample music in its structure as well. Despite its title 'Race Against Time' is a unhurried glide.
Far Beyond Earth
Composer: D.Imman
Genre: Instrumental/Synth
Far Beyond Earth communicates the mystery of space though in not a striking but sufficient manner. It's akin to a horror bgm trying too much to scare with its fairly predictable notes. We wanted to be a bit surprised, but maybe the composer has justifiable reasons. There is an obvious effort to include 'space' in this track making it fall below the bar the album seemingly set initially.
As an added treat, Imman's album also has two Karaoke versions for Tik Tik Tik and Kurumba tracks to relive and make them a part of your musical experience.
Imman is not only trailblazing in his attempt as composing music score for a regional space film is taunting, but has also set the bar high for other musicians.
Pick of the album : Choose between Kurumba's Male and Female versions.
Verdict: Imman's earnestness is visible in his 100th album deserving a sure spot in your playlist.
Rating: 3/5