Vinayak unveils trailer of 'Inthalo Ennenni Vinthalo'
Thursday, January 11, 2018 • Telugu Comments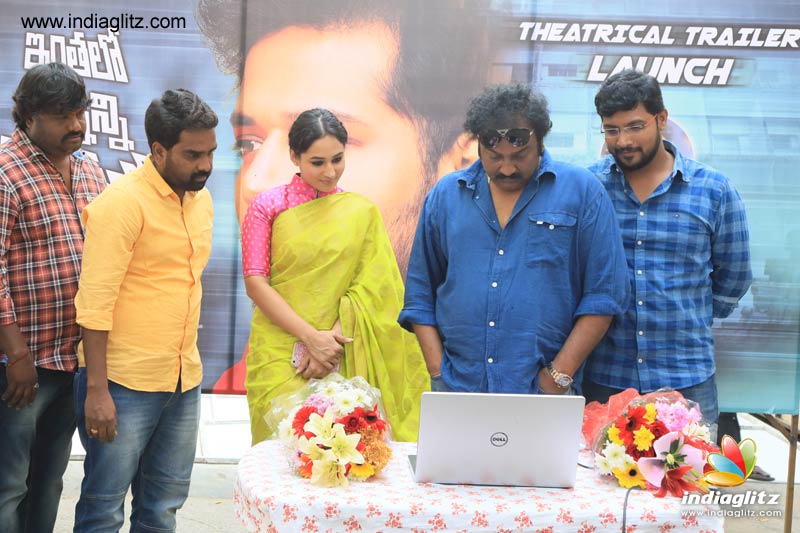 'Inthalo Ennenni Vinthalo', directed by Varaprasad Varikoota, stars Nandu, Soumya Venugopal and Pooja Ramachandran in lead roles. Varaprasad, a protege of VV Vinayak, is debuting as a director with this family-romantic-comedy entertainer. The makers are claiming that the kind of love story seen in the movie is first-of-its-kind in Tollywood.
The news is that its trailer has been released on the hands of VV Vinayak. "I have come here to release the trailer even though I have been busy shooting the climax of 'Intelligent'. The reason is that, Varaprasad is my 'sishya'. I wish that this film becomes a big hit and Varaprasad will go on to work with top stars," Vinayak says.
Producer Ippili Rammohan Rao says, "We are thankful to Vinayak garu for agreeing to release the trailer as soon as we requested him. Our film has a gripping screenplay. We are planning to release it in February."
Nalla Venu, Duvvasi Mohan, Narasimha, Krishna Teja, Trishul, Gagan Vihari, Ramesh, Bhargav, Kishore Das, and others are part of the cast.
Music is by Yajamanya. The cinematography is by S Murali Mohan Reddy. Editing is by Chota K Prasad. Art direction is by Jilla Mohan. Stunts are by Mersal Ramana. Dance choreography is by Vigneshwar. Lyrics are by Suresh Gangula.
Related News
Actress Photos
Deepu Naidu
Nitya Naresh
Shipraa Gaur Kavya
Harshitha Panwar