Exclusive: Thiagarajan Kumararaja speaks about his next film
Wednesday, November 23, 2016 • Tamil Comments

Listen to article
--:-- / --:--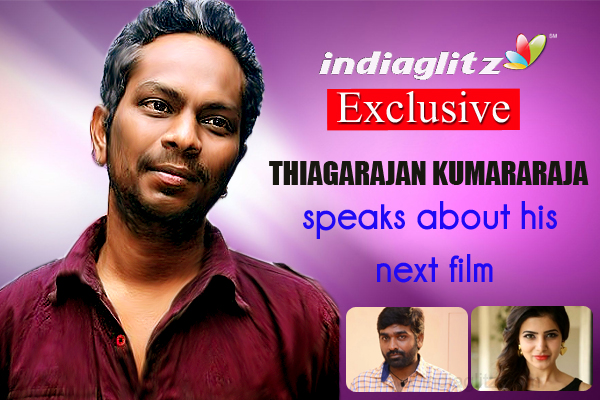 With just one film 'Aaranya Kaandam',young director Thiagarajan Kumararaja has become of the most admired directors of Tamil cinema.
Ever since the announcement came about his next film that will be a multi-starrer with Vijay Sethupathi, Samantha and Fahad Faasil in important roles the entire film fraternity is excited about the project. The maverick filmmaker has started shooting for the film without making any noise.
At this juncture, IndiaGlitz brings you some interesting details about the film revealed by the man at the helm in his exclusive interview to us.
Why such a long gap?
Initially I never felt there was any gap at all. Only after looking back I sensed it. I was penning a script but I couldn`t do that film. So I put that on fold and worked on another script to start this project.
How this films happened?
I can not specify anything on how this project came alive.
How did you pull of the fresh combination Vijay Sethupathi-Samantha?
Having a fresh combo was not our motive. I just approached actors for the roles like it generally happens. All are interesting characters. I hope audience will like them.
How P.C.Sreeram came on board?
Yeah that`s a pleasant surprise. We united just like that. We did not have any plan to rope in big technicians. One fine day I just thought of approaching him and asked him. He just said okay and we have started working on the film.
Fahad Faasil?
All of us know that Fahad is a very good actor. I generally won`t give importance to language barriers. If I feel an actor will fit into the role I will approach. He is a actor with a wide range and bandwidth. I just asked whether he is interested and he came on board.
We heard Fahad plays the villain? Is it true?
No. All characters in the film will have negative as well as positive shades.
Can you reveal more about the cast and crew of the film?
Yuvan is the music director. Sathyaraj who worked as an assitant in Aaranya Kandam` is the Editor of this film. Gopi Prasanna is the designer and he did the same job for Aaranya Kandam`. Vijay Adhinathan is the Art Director and Swathy is the Executive Producer.
What about the genre of this film?
I did not fix any genre for AK`. We just write a story and audience will put it in a genre as they perceive it.
Aaranya Kaandam` did not do well commercially. But the film is still remembered by all. The same happened to films like Anbe Sivam`. Do you feel that people fail to recognise good films when they release?
I never analyse such things. I did a film. People will accept it if they have to. Otherwise we just have to accept the fact that they did not accept it.
In what stage is the film now?
We have started shooting and completed the first schedule and we will start the second in a few days.
Will it be a commercial film?
If the film succeeds at the box office it is a commercial film. Otherwise it isn`t. That`s all. We will know it only in hindsight.
What is the title of the film?
We haven`t finalized the title yet.
Anything else you have to share about the film?
I am doing a film in the way I like. I hope people will also like it.
Follow us on Google News and stay updated with the latest!
Follow
Actress Photos
Mehreen Pirzada
Sonal Chauhan
Amala Paul
Shobitha Dhulipala