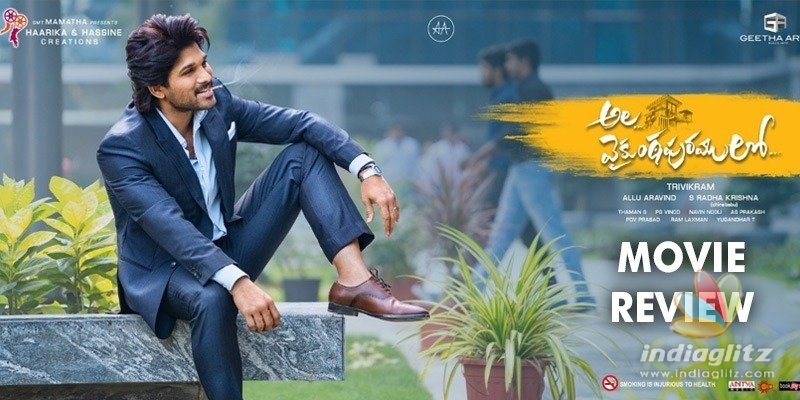 'Ala Vaikunthapurramuloo', starring Allu Arjun in the lead, hit the screens this Sunday.  Here is our review of the family entertainer.
Story:
Valmiki (Murli Sharma) works for businessman Ramachandra (Jayaram) and his wife (Tabu).  Valmiki's wife gives birth to a baby boy and, right at the same time, Tabu too delivers a baby boy in the same hospital.  Out of selfishness and jealousy towards Ramachandra, who is his long-time friend, Valmiki secretly swaps the babies to ensure that his child grows up as a rich guy.  
Twenty years later, the swapped baby with Valmiki grows up to be Bantu (Allu Arjun), who endears himself to his biological family.  What consequences does this lead to?  You got to watch it on the silver screen.
Analysis:
Watching Trivikram Srinivas get crisper and sharper is a delight.  'Ala Vaikunthapurramuloo' seeks to entice the family audience with delicate human emotions, a dose of karma talk, a dare-devil and lovable youngster who undoes the mess in his biological family, a couple who haven't been on good terms, and, interestingly, a middle-aged man whose cunning selfishness makes him commit a sin and yet never go through the pangs of guilt.  
Allu Arjun is an underrated actor and there are no two ways about it.  Much of the online adulation for the Mega hero is for his dances.  As Bantu, he catapults his way into your heart, delivering one of the top-most performances of his career.  He is absolutely brilliant in the interval scene, fighting back tears, speechless out of shock and eliciting the audience's empathy with practiced ease.  The writing department adds to the viewer's unique experience.  Watch Tabu's character say those two words that hit the bull's eye in Bantu's presence: 'Evaru?' and 'Choodaledu'.  Trivikram is at his sexiest best when he is subtle, not when he loves loudness.  
In Murli Sharma's meanness, one has a glimpse of the debasement that we humans are capable of.  Trivikram represents this character as a comic specimen rather than build old-fashioned melodrama.  This is what others have to learn from the director.  In contrast to him is Allu Arjun's layered character - high-thinking, deep, empathetic and someone who can give up a fortune if it keeps others happy.  
The Jayaram-Tabu track could have been longer and we wouldn't have complained about the length.  There comes a touching scene between them and the dialogues in this scene hit the nail on the head.  Sushanth's characterization is yet another nuance in the movie.  
The second half does slacken a bit but before things go out of control, Trivikram ably unleashes the inner Harish Shankar and goes in for an out-and-out mass scene in which Bunny appeases the fans of Chiranjeevi, Pawan Kalyan, NTR Jr and Prabhas with ease.  Topped by the peppy 'Ramuloo Ramulaa', you can't ask for more this Sankranthi.
Trivikram is determined to change his tack when it comes to action scenes and it's clear as daylight.  The eve-teasing fight, the last fight that is rendered as a song-fight moment, the fight with Ajay and others - these go to show that you can deliver a dekko when Bunny is working with a vengeance and the Ram-Lakshman duo are powered by directorial vision. 
There is a character that suffers from inferiority complex, there is a mother who just can't take her husband complaining about her son, there is a black sheep in the family who will one day know what an a$$hole he has been... It has been a long while since we have seen such a voluminous family entertainer.  
If Bunny is consistently praise-worthy both in scenes and songs (his dance moves in 'Butta Bomma' are lovely), Murli Sharma is awesome.  Pooja Hegde is glamorous, Sachin Khadekar is a plus. Samuthirakani is under-explored.  Jayaram, Tabu, Sushanth, Navdeep, Nivetha Pethuraj, Rajendra Prasad, Harshavardhan, Sunil, Brahmaji and others fit the bill.  Eeswari is impressive.  
Thaman's ultra-blockbuster songs are a big asset, while his BGM is creative.  PG Vinod's cinematography is charming.  AS Prakash's art direction and Naveen Nooli's editing are apt.
On the flip side, the film could have done away with making the young females (especially Pooja's character) look dumb.  The 'leg fantasy' track is cringe-worthy.  Pooja falls for the hero just like that.  There could have been more of Murli Sharma in the second half.  Rohini's side of the story is not explored a bit.  
Verdict::
'Ala Vaikunthapurramuloo' is a thorough entertainer that offers loads of fun.  Without getting melodramatic, it makes you root for its layered sentimentality.  Trivikram has a firm grip on the narrative for the most part.  Allu Arjun is in top form.  Go for it!
Rating: 3.25 / 5.0
Showcase your talent to millions!!
Write about topics that interest you - anything from movies to cricket, gadgets to startups.
SUBMIT ARTICLE
More
Telugu Movie Reviews
Kota Bommali P.S
Aadikeshava
Sound Party
The Trail
Spark
Sapta Sagaralu Dhaati (Side B)