Carnivalesque, soulful
Tuesday, January 7, 2020 • Telugu Comments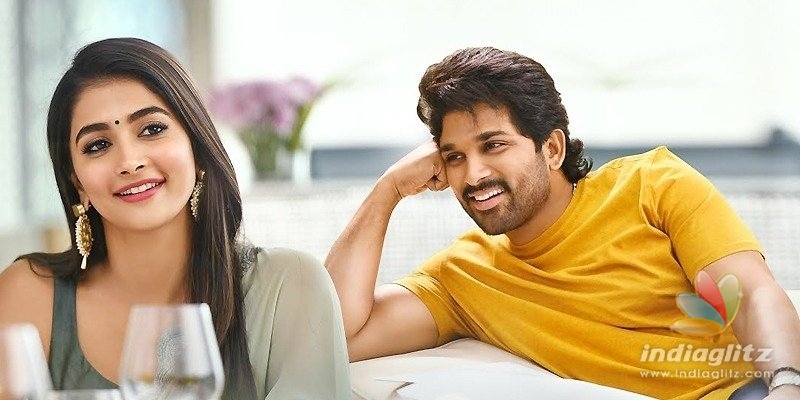 The full jukebox of 'Ala Vaikunthapurramuloo' is out, on Aditya Music.  With lyrics by Sirivennela Seetharamasastry, Kasarla Shyam, Ramajogayya Sastry, Krishna Chaitanya and Kalyan Chakravarthy, this one has music by SS Thaman.  Sid Sriram, Anurag Kulkarni, Armaan Malik, Mangli, Sri Krishna, Priya Sisters, and Rahul Sipligunj have rendered the songs.
Samajavaragamana
Singer: Sid Sriram
Lyrics: Seetharama Sastry
The song weds the Classical with the modern.  Thaman trods the difficult path with finesse, thanks to his unique sense of music.  The way the tempo raises with Sid Sriram uttering the title of the song is an exercise in subtlety. It's Sid Sriram's kind of rendition all the way, making the song immersive. Sirivennela's lines are rooted in poetic Telugu, complete with some never-heard-before usages.  Trivikram Srinivas had been waiting to create a situation that can make the best use of the lyricist's limitless knowledge.
Ramuloo Ramulaa
Singer: Anurag Kulkarni, Mangli
Lyrics: Kasarla Shyam
As peppy songs go, this one strikes it hot by repeating the title 'Ramuloo Ramulaa'.  The folksy lyrics get just the kind of musical vibes that a star vehicle needed.  Combined with the crooning prowess of Anurag Kulkarni, this one delivers a dekko.  Mangli's voice adds to the rustic feel.  Thaman was in for a hard grind after the massive popularity that 'Samajavaragamana' got.  The song feels rooted if not absorbing.  All in all, a potential chartbuster.
OMG Daddy
Singer: Rahul Sipligunj
Lyricist: Krishna Chaitanya
Thaman is rollicking, putting in some cute and scintillating music.  The beats are tailor-made for Allu Arjun's dance moves.  The lyrics are fun to listen to, especially the line 'Ammaku mogudu, Nannainadu'.  The Telugu rap by Roll Rida, English rap by Rahul Nambiar, and the female rap by Lady Kash are at their best.  Blazee's intervention is electrifying.
Butta Bomma
Singer: Armaan Malik
Lyricist: Ramajogayya Sastry
Sastry's knack of writing alliterative lines and poetic thoughts comes to the fore in this delectably-written song.  The phrase 'Kaali kindi puvvu nenu nethinettukuntive' is one of those story-based lines.  Armaan Malik has an effervescent voice and when he rises the crescendo, he does sound a bit like Anurag Kulkarni did in 'Ramuloo Ramulaa'.  Thaman is on a roll and he is not ready to take a break from giving blockbusters.  Well done!
Ala Vaikuntapurramloo
Singers: Sri Krishna ,Priya Sisters
Lyrics: Kalyan Chakravarthy
This one shouldn't go down as an underrated song.  Priya Sisters sound the bugle, making the song as a classical one.  Later, Thaman stylizes the song in his own way.  The lyrics and Sri Krishna's rendition complement the force of Thaman and the female singers.
Verdict:
This one is one of the best from Thaman and carries features of carnivalesque and soulful music.  One of the most riveting coming together of singers and lyricists, this!
Rating: 3.75