A Thaman album
Saturday, March 10, 2018 • Telugu Comments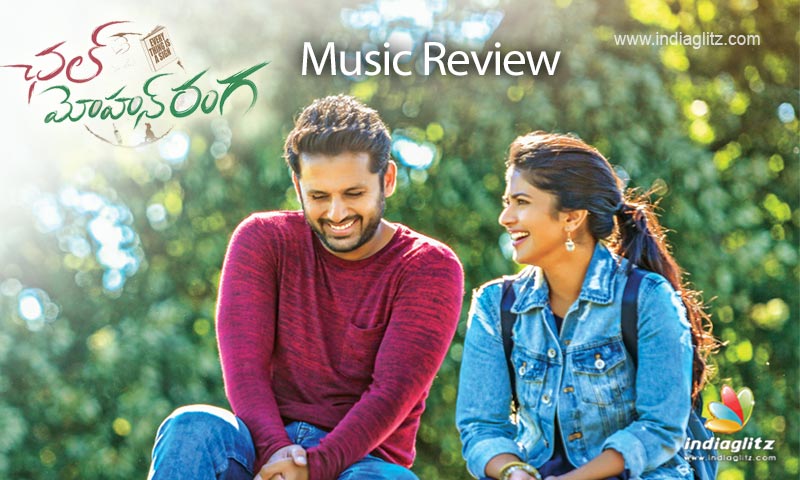 The album of 'Chal Mohana Ranga', starring Nithiin and Megha Akash, is out on Aditya Music one song at a time. Composed by SS Thaman, here we present the review of the three songs released thus far Read on...
Ga Gha Megha
Singer: Rahul Nambiar
Lyricist: Krishna Kanth
The song has a certain teen exuberance about it. It could be the holiday song of a bunch of liberated Engineering graduates. But the lyrics suggest a romance. The deployment of the guitar (Arun Chiluveru), the electric violin (Manoj & Shandilya), the harmonies (Sri Krishna & Aditya) is effective. It has also been recorded at YRF in Mumbai, something which is a rarity.
Rahul Nambiar renders the song with gusto. His voice exudes celebration in a different way. Krishna Kanth's lyrics are easy on the ears. Thaman's style keeps the proceedings friendly. The phrase 'Munde ae malupu undho' anticipates a twist in the tale.
Vaaram
Singer: Nakash Aziz
Lyricist: Kedarnath
After the likes of 'What is this Amma?' in recent times, 'Vaaram' is yet another song of a dude in distress. The broken heart sorrowfully sings a song that is creatively rhythmic and rhyming.
Kedarnath's lyrics mirror the hurt lover boy's casually-expressed pain. 'Nee roopam chooste segalu. nee kopam chuste digulu' stands out. SS Thaman starts off the song by drawing from AR Rahman's 'Aaromale' at one level. The purposive laziness in Nakash Aziz's voice is also reminiscent of quite a few songs in the same genre. The use of the Saxophone, Violin, Electric and Acoustic guitars is pleasing. Recorded at Mumbai's YRF Studio, among others, this is a welcome number.
Pedda Puli
Singer: Rahul Sipligunj
Lyricist: Sahithi
For the starters, the number is deeply inspired by a Telangana folk song. It's almost a festival anthem and director Krishna Chaitanya conceives it for a festival-time dance in the film, while Sahithi's lyrics relate to worldly affairs.
In terms of the music and perhaps even choreography, 'Pedda Puli' could well go down as not so distinctive. It's conventional creativity and nothing much to write about. The conceptualization is a case of been-there-done-that. We have had enough of them. Thaman stays true to the spirit of the original and keeps the number at the level of a private song. Rahul Sipligunj's voice brims with energy. Sri Krishna, Saketh, and Aditya give additional vocals.