Getting romance right
Monday, July 10, 2017 • Telugu Comments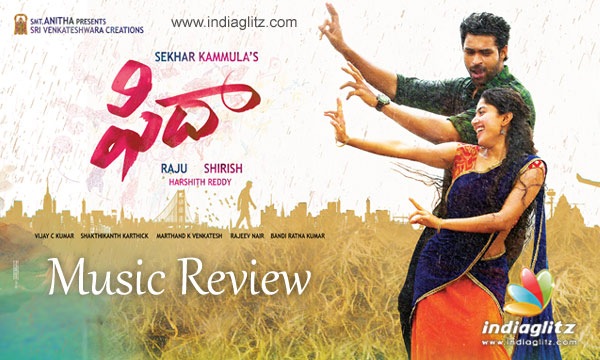 Music-directed by Sashikanth Karthick, 'Fidaa' brings together a range of lyricists. Suddala Ashok Teja, Sirivennela, Chaithanya Pingali and Vanamali pen the numbers. Hemachandra, Deepak, Madhu Priya, Ramky, Aravind Srinivas, Renuka, Sindhuri and Sinov Raj are the singers.
Vachinde
Singers: Madhu Priya, Ramky
Lyricist: Suddala Ashok Teja
Sekhar Kammula's heroine in 'Fidaa' not only speaks Telangana, but also sings Telangana. Thus, we have Suddala Ashok Teja replacing the high-brow Sirivennela to write a song that borders on that marriage song from Mani Ratnam's 'Sakhi' in terms of essence.
Rendered by Madhu Priya, whose vocals are hardly orthodox, the song has a youthful flavour written all over it. Sai Pallavi is out to caution the bridegroom in a playful way. It's also that moment when the hero could fall for the naughty girl. Ramky chips in with vocals, while Sindhuri has rendered additional vocals. Music director Shakthikanth Karthick's work passes muster.
Edo Jaruguthondi
Singers: Aravind Srinivas, Renuka
Lyricist: Sirivennela Seetharama Sastry
Aravind Srinivas leads the romantic number from the front. His voice winks for a lovely reason. Renuka chips in at a later stage, and comes and disappears soothingly. Sirivennela's phrases such as 'Kala lanti ee sathyam' are been-there-done-that. Music-wise, it's a middling performer.
Hey Pillagaada
Singers: Sindhuri, Sinov Raj
Lyricist: Vanamali
Sindhuri's voice comes as a peculiar offbeat quality and so, fits well with the heroine's characterization. Sinov Raj complements her vocals well. Vanamali's lyrics are buoyant, straightforward and folkish. This should satisfy the story's setting in a Telangana village. Shakthikanth's music is most inventive for this song. Although instrumentation does remind one of AR Rahman's songs, it has its own identity.
Oosupodu
Singer: Hemachandra
Lyricist: Chaithanya Pingali
This qualifies to be a running background score. The tune has got depth, which can spell both longing and romance. Hemachandra's seasoned vocals go a long way in endearing Chaithanya Pingali's lyrics to the listener's voice. A song that makes for an impactful climax number.
Hey Mister
Singer: Deepak
Lyricist: Vanamali
This sounds like a reckless intro song in a B-grade movie. Thanklessly inspired from a range of genres, the song is better done away with before the film's release itself. Deepak and Vanamali do a good job, otherwise.
Fidaa
Singers: Hemachandra, Malavika
Lyricist: Chaithanya Pingali
The title track turns out to be the best of all. Chaithanya Pingali's phrases (read 'Oka ninge le manaku unnadi', etc) make an instant appeal with their poetic flavour. Hemachandra's rendition is cheerful and makes immense musical sense. Malavika complements him ably. Music director Shashikanth does the number in such a way that it can be easily coalesced into the narration.
Verdict:
As usual, Sekhar Kammula goes for songs that are drawn from the ecosystem in which the story is set and the characters in them. No item songs, but for one badly-done 'Mister' number.
Rating: 3/5