I am in a state of confusion: Anupama Parameswaran [Exclusive Interview]
Tuesday, October 4, 2016 • Telugu Comments

Listen to article
--:-- / --:--



Curly-haired heartthrob Anupama Parameswaran was catapulted to stardom by her very debut movie 'Premam' (Malayalam). Two years since, she may have come full circle by reprising herself in the Telugu version. The career-oriented professional, in this frank interview to IndiaGlitz, says that she is confused as well as not satisfied. Catch the beauty talk about her curly hair, what she thinks about guys calling her 'darling', 'sweetie', etc and more.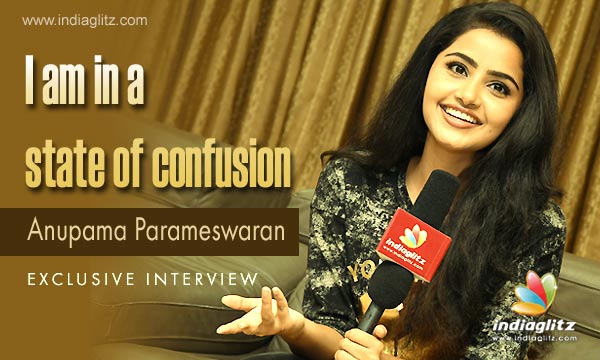 First things first. How was it re-doing a role you had played two years back? Any discoveries in the journey? It must have been creative as well as emotional.
I was very happy to do the same role twice. I was Mary in the original. I am Suma in the remake. It was gladdening because I could improvise and put some more work into it. It was an emotional experience as well because the original had happened as a matter of miracle to me. I come from a middle-class background and there was none to lead me through to movies. 'Premam' happened all of a sudden. As I reprised myself, all those scenes and frames came to my mind. So, it was both emotional and exciting to relive the role.
Was there any moment where you felt you could have done better in the original?
I am a kind of person who never gets satisfied. Whatever I do, I don't get satisfied. A day or two after doing a thing, something occurs to me which makes me think I could have done it better. As an actor, I am greedy. I want to experiment with all actors and directors. I want to always do something challenging.
Did the director want you to change anything with respect to your looks, etc compared to how Mary looked?
Chandoo Mondeti didn't want me to look any different from how Mary looked. The curly hair, the innocence are intact. Only the length and texture of the hair have been tweaked to a small extent. I lost some hair. Just that keeping nativity factor in mind, the Christian backdrop has been changed to that of Hindu. It was easy-going to do the movie.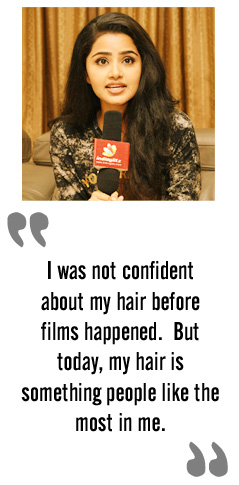 Were you tensed about dubbing for yourself?
I have dubbed for my character like I did for 'A Aa'. I don't have too many lines in 'Premam'. Moreover, Chandoo was beside me to help me out. Why would I be tensed when he knows it the best?
How did it feel working with Chaitu? How does he compare vis-a-vis Nivin Pauly?
Before I joined him for the shoot, I had met Chay somewhere in a hotel. I found him to be very energetic, simple and down-to-earth. He seemed like somebody from my class. Looks-wise, he is like a teenager. I don't want to compare him with Nivin. They both have a unique style of their own.
Has Chay told you that he is in love?
(Laughs). What question! I don't know. He is probably in love with movies.
Talking about your curly hair which many guys adore, did you always see it as your big asset?
I was not confident about my hair before films happened. But today, my hair is something people like the most in me.
Why do you think guys love you - is it because of your hair or tender looks?
Do boys actually love me? (Guffaws). I don't know how much they love me, but I do receive a lot of messages saying I shouldn't straighten my hair, etc.
What thoughts cross your mind when people describe you as 'sweetie', 'darling', etc?
It's too funny to read such messages. I try to respond to such messages as much as I can. I have to because they are the people supporting me. They are spending time to text me and I should be responsible in reciprocating that love.
You have a good fan base among males. What is your image of an ideal guy?
I don't know. I don't know how to answer this question. It depends on the situation. It can't be predicted.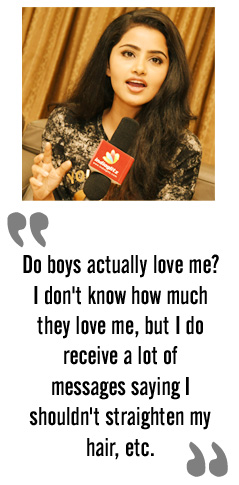 Given that you hail from a middle-class background, what pulled you toward theatre and eventually, cinema?
My parents diagnosed that I had an attraction toward art as a teenager. I used to love dramas. There was a small theatre group in our place and as kids, we used to watch movies, do workshops, share insights about acting, etc.
Coming to your contrasting roles - Nagavalli of 'A Aa' and Suma of 'Premam', what are you like in your real life?
(Smiles). When I am angry, I am like Nagavalli. When I am happy, I am Suma. I don't know how far I am arrogant like Nagavalli, though. I get angry so fast and I turn cool pretty fast. I laugh a lot. I don't believe in a constricted kind of living. I am very relaxed. I don't go through mental tensions and such.
Your Twitter status reads that you want to go from zero to Zen. Why do you see yourself as a zero? What's the idea?
I always like to believe myself as a zero. Whenever I go to a place, whenever I meet people, I see myself as a student. That makes me feel fresh. That helps me think about a lot of things.
How are you able to handle the fame?
For my age, it's very difficult. I am in a state where I am confused as to what to do, how to do, whom to talk and not to talk to, what to choose, what not to choose, etc. Even after all these years, I am confused. Whenever I am confused, I fall back on my parents. I also discuss with my close circle at times.
What are your up-and-coming movies?
Besides 'Shatamanam Bhavati', which will release in January next, my Tamil movie with Dhanush ('Kodi') will hopefully release for Diwali. I am listening to a lot of scripts and may commit myself to some film very soon.
Follow us on Google News and stay updated with the latest!
Follow
Actress Photos
Shradda Das
Mehreen Pirzada
Lavanya Tripathi
Rashi Khanna