A healthy melange
Monday, September 4, 2017 • Telugu Comments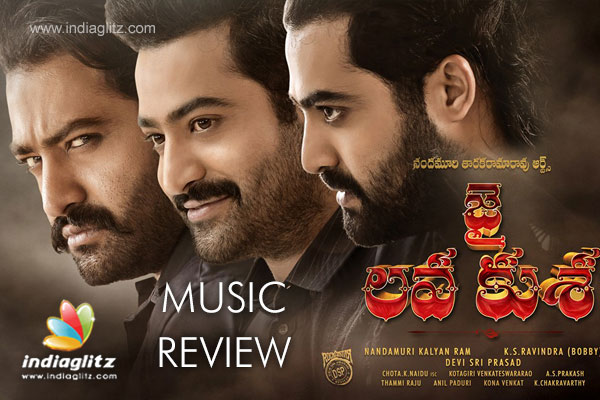 Devi Sri Prasad ropes in Divya Kumar, Jaspreet Jasz, Ranina Reddy, Hemachandra and Nakash Aziz to render the various numbers. All the songs but for one are by Chandrabose (Ramajogayya Sastry writes the other one).
RAAVANA
Singer: Divya Kumar
Lyrics: Chandrabose
Devi Sri Prasad skillfully manages the task of delivering a tune that introduces the demonic villain even while doing justice to NTR's identity as a lead actor. It's a tough balancing act for sure.
Chandrabose's language is Sanskritic, character-oriented and not easy to understand. Divya Kumar's vocals sound very native. He is superb as someone announcing the ominous. Devi Sri Prasad's music goes majestic, getting the right notes from the Brass section.
TRING TRING
Singers: Jaspreet Jasz, Ranina Reddy
Lyrics: Ramajogayya Shastry
Ramajogayya Sastry's English-language vocabulary comes in handy to describe the lover boy's variegated emotions. 'Century', 'Injury' and the like are quite rhythmic on the earth-shattering as 'earthquake'.
Jaspreet Jasz's voice is tailor-made for a boisterous DSP duet. Ranina Reddy chips in with her snazzy pronunciation. Musically, DSP draws from his own numbers of the past.
NEE KALLALONA
Singer: Hemachandra
Lyrics: Chandrabose
It has been long since we were treated to Chandrabose's poetic lyrics. And he just doesn't disappoint. 'Prema anna galipatam Chandramandalam cheraga' and such phrases are dreamy. The soft romance and the falling back on Nature also sit well with the character. The 'Ravanasura' twist towards the end is enjoyable.
Hemachandra's modulation is nimble. It surely is not everybody's cup of tea. Vikas Badisa's keyboard and his Acoustic Guitar complement DSP's conceptualization.
DOCHESTHA
Singer: Nakash Aziz
Lyrics: Chandrabose
Don't go by the song's title. The Krishna-like hero is out to rob you of your flaws, suffering, and darkness. Don't know what Bobby told Chandrabose, but the lyricist writes a song that feels like a family son-meets-Messiah number.
Nakash Aziz has now become a regular in superstar movies, regardless of who is the music director. And his voice has both an endearing and a booming quality at once. Devi Sri doesn't quite deliver a dekko. At many levels, the number is inspired.
Verdict:
The album is surely not a one-man show. It's a five-men show – DSP, Chandrabose, Jai, Lava and Kusa. Enjoy it.
Rating: 3.25/5