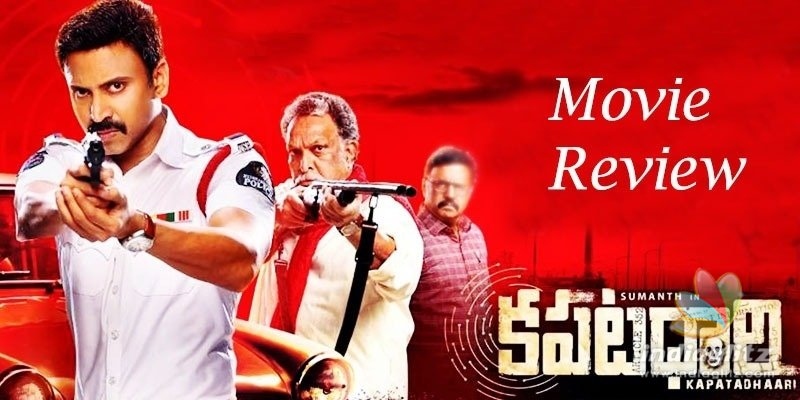 'Kapatadhaari', a crime drama, hits the screens this Friday. Here is our review of the latest box-office outing. 
Story:
Gautham (Sumanth) is a traffic sub-inspector who aspires to get into the crime department to solve crime cases. He learns that the skeletal remains of a family have got accidentally unearthed at a construction site. When he discovers that the remains are 40-years-old, he launches an unofficial investigation with the help of a crime reporter named GK (Jayaprakash). In his journey, he has to take retired SI Ranjith Kumar (Nasser) along. 
Who killed the family? Is the conspirator alive? If yes, what he is up to? Answers to these questions are mostly found in the second half.
Analysis:
'Kapatadhaari' is an official remake of the Kannada film 'Kavaludaari', whose story was by M Hemanth Rao. The largely faithful remake shows its protagonist as an underdog who ducks the system and braves all odds (which are funnily minimal) in solving a murder mystery. 
With whodunit-like crime dramas, the investigation part has to be solid. We have seen earnest police procedurals such as 'HIT: The First Case' in recent times. The film under review lives up to its self-image insofar as it sticks to the investigative track with sincerity. However, the same is not salvaging enough. 
Convenient writing is the hallmark of this film. Sumanth's character discovers one clue after another with ease. It's as if the crime didn't happen four decades ago but four months/years ago. 
There is a heavyweight politician who can be challenged with incredible ease. He is there to also reveal his story at the right time, like old-fashioned villains used to do in movies of an earlier era. 
Director Pradeep Krishnamoorthy shows imagination when it comes to casting Nasser and Jayaprakash for the roles of an ex-cop and an ambitious reporter, respectively. The duo also gets some very well-rounded scenes with Gautham. However, when it comes to building suspense or drama around them, the film falters. 
There is a film actress by the name of Ramya (Suman Ranganathan) and she is at best a stereotyped character. The Chief Minister is a cardboard character. Like in the case of the other two veterans, this character, too, is redeemed by the performance of the actor (Sampath Maitreya).
While the run-time is not too much, the narration is either taxing or too simplistic. The first half's flashback, driven by endless monologic lines, keeps the audience scratching their heads. It takes a revisit of the same story in the second half for the audience to make sense of it all. 
Rasamathi's cinematography is able, while Simon K King's tension-inducing background score is a big plus. The title track, which serves as a theme, is superb.
Sumanth, who is not a stranger to serious roles, is convincing. He should have avoided those dating-by-parental-arrangement scenes in the first act - for obvious reasons. Nandita Swetha gets to play a mellowed character. Sensible casting is the film's forte. 
Verdict:
'Kapatadhaari' is an investigative crime drama that is a faithful remake. It is a simplistic police procedural that lacks emotional connect.
Rating: 2.25 / 5.0
Showcase your talent to millions!!
Write about topics that interest you - anything from movies to cricket, gadgets to startups.
SUBMIT ARTICLE
More
Telugu Movie Reviews
Hunt
Driver Jamuna
ATM
Vaarasudu
Waltair Veerayya
Veera Simha Reddy