'Keshava' is not all serious: Nikhil Siddharth
Thursday, May 18, 2017 • Telugu Comments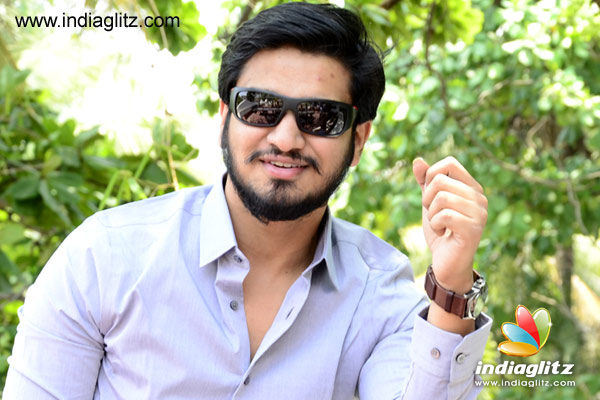 After a horror-thriller that became a big hit in 2016, Nikhil Siddharth is gearing up for the release of 'Keshava' on May 19 (tomorrow). Saying that he is lucky to be getting the right directors and producers, the young actor confesses to feeling celebratory on completing his 10-year stint in Tollywood soon. He also speaks about what is in store in his latest release.
Now that the teaser and trailer of 'Keshava' have got an encouraging response, are you relaxed?
While the response is very encouraging, I am tensed nevertheless. The positive response makes us feel happy, but until the first day first show is over, the heart might slip from its place any time!
How different is the film? Is it all serious?
It's not like that. There is comedy, there is romance, etc. Sudheer Varma has shot it in retro style on the lines of cult hits like 'Badlapur'. More than action, the film has emotions as its forte. There are interesting scenes between Ritu and me.
Usually, the hero can do anything. But given his heart condition in this movie, he can't run fast, etc here. He has to always be calm. His heart wants to be angry, but his brain wants him to calm down.
What care has been taken to reach out to a wider audience?
Sudheer has done a balancing act. It's not too artsy or too commercial. That's what had worked for 'Swamy Ra Ra' and 'Karthikeya'. Along with fantasy, there was comedy in the latter. It's a healthy fusion. There are a lot of twists and characters in 'Keshava'.
The release is also big.
Yes, it's releasing in about 650 screens. 'Ekkadiki Pothavu Chinnavada' happened during Demonetization and yet it became a big hit. 'Keshava' is happening when the Baahubali fever is very high.
Are you trying for something new in the coming years?
Definitely. I can't keep doing the same kind of stuff. I was doing lover boy stories, happy-go-lucky and guy-next-door kind of roles. This is when certain films brought out a new angle about me.
Next, I am going to do college boy's role in Raju Sundaram's movie. Then there is a sequel to 'Karthikeya', which will begin from where the first part ended.
Do you think you have been luckier in getting the right stories?
To me, the story is most important. The director is also important, but story comes first. The most difficult thing in this industry is one has to know when to say no. Obligation valana cinema cheyakoodadu. Even though Sudheer is a friend of mine, I mightn't have done a film had he offered another story.
Now that my films are scoring commercially, I have some amount of freedom to express myself with my directors and producers.
When are you putting a full stop to your bachelorhood?
I really want to get married. But I should meet the right girl. I would like to have a love-cum-arranged marriage. Many people these days are preferring that mode.
Have you dated any?
Firstly for me to go on a date, I should find enough time. If I go late to a date, it won't be good!
Follow us on Google News and stay updated with the latest!
Follow
Actress Photos
Nithya Menen
Sanchita Shetty
Rashi Khanna
Kalyani Priyadarshan