Lok Sabha Election Results 2019 - Live Updates
Thursday, May 23, 2019 • Telugu Comments
9:00 am :
So far, leads for 52 seats are available in Uttar Pradesh. NDA is leading in as many as 40 seats.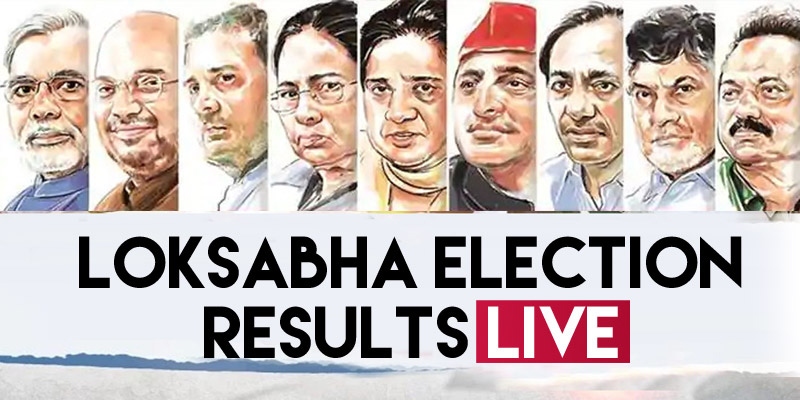 9:06 am :
Karnataka: BJP takes lead in 20 seats, Congress & JDU make do with 8 leads. Expected as per Exit Polls.
9:20 am :
As of latest reports, NDA has already crossed the half-way mark (only Leads, not final results). Modi Sena is leading in 295 seats. This is massive!
9:25 am :
UPA is leading in just 85 seats. This is a one-sided match in which Rahul Gandhi's team is seemingly heading for a crushing defeat. Non-NDA, Non-UPA numbers are at a very low 73.
9:38 am :
Rahul Gandhi is trailing in Amethi. This was expected. BJP leading in a good number of seats in West Bengal and Odisha.
9:42 am :
BJP leading in 25 seats in Gujarat. Congress may get 1 seat.
9:42 am :
In Rajasthan, BJP could win every single seat. Leading in 25 seats.
9:42 am :
Modi wave is unprecedented in these two States.
9:55 am :
Controversial Sadhvi Pragya Singh, Jayaprada, Sonia Gandhi are leading in their respective seats.
9:55 am :
Priyanka Gandhi proves to be a disaster in UP. Congress may win just 1 or 2 seats here.
10:00 am :
BJP & Shiv Sena are crushing Congress & NCP in Maharashtra. NDA is leading in 39 out of 42 seats. Humiliating one for UPA.
10:02 am :
It's a close fight between BJP and TMC in Bengal. Both are leading in an equal number of seats. Almost. They may each get 19-20 seats in final results.
10:02 am :
It's one-sided war in Haryana as well. BJP leads in 9/10 seats. Amazing performance by saffronists.
10:02 am :
As of now, BJP is leading in all of Delhi's 7 seats. Congress and AAP are set to score a duck.
10:06 am :
Humongous, mind-blowing, fantastic. BJP is expected to get more than 50 percent vote share in UP. At this rate, its final tally could cross 60 seats. Others will get 20.
10:06 am :
Rahul Gandhi leading in Wayanda, Kerala.
10:06 am :
Former cricket Gautam Gambhir (BJP) is most likely to defeat AAP candidate Atishi.
10:20 am :
It's DMK wave in Tamil Nadu. UPA is going strong in the State. TN has saved UPA from going below 100.
10:20 am :
As for Telangana, BJP likely to secure 3 seats in Telangana if early trends are any indication. Otherwise, it's TRS all the way. Again, expected.
10:20 am :
Chattisgarh: Surprisingly, BJP is leading in 8 out of 11 seats. In December 2018, Congress had crushed BJP in the Assembly elections.
10:30 am :
Major numbers: Leads are known for 542 seats. BJP leads in 288, NDA in 342. Congress leads in 52, UPA in 90. Modi set to lead the country as PM once again.
11:00 am :
Urmila Matondkar trailing in North Mumbai. BJP & Shiv Sena could win all 6 seats in Mumbai. NDA doing superbly in Maharashtra, which has gone through a drought.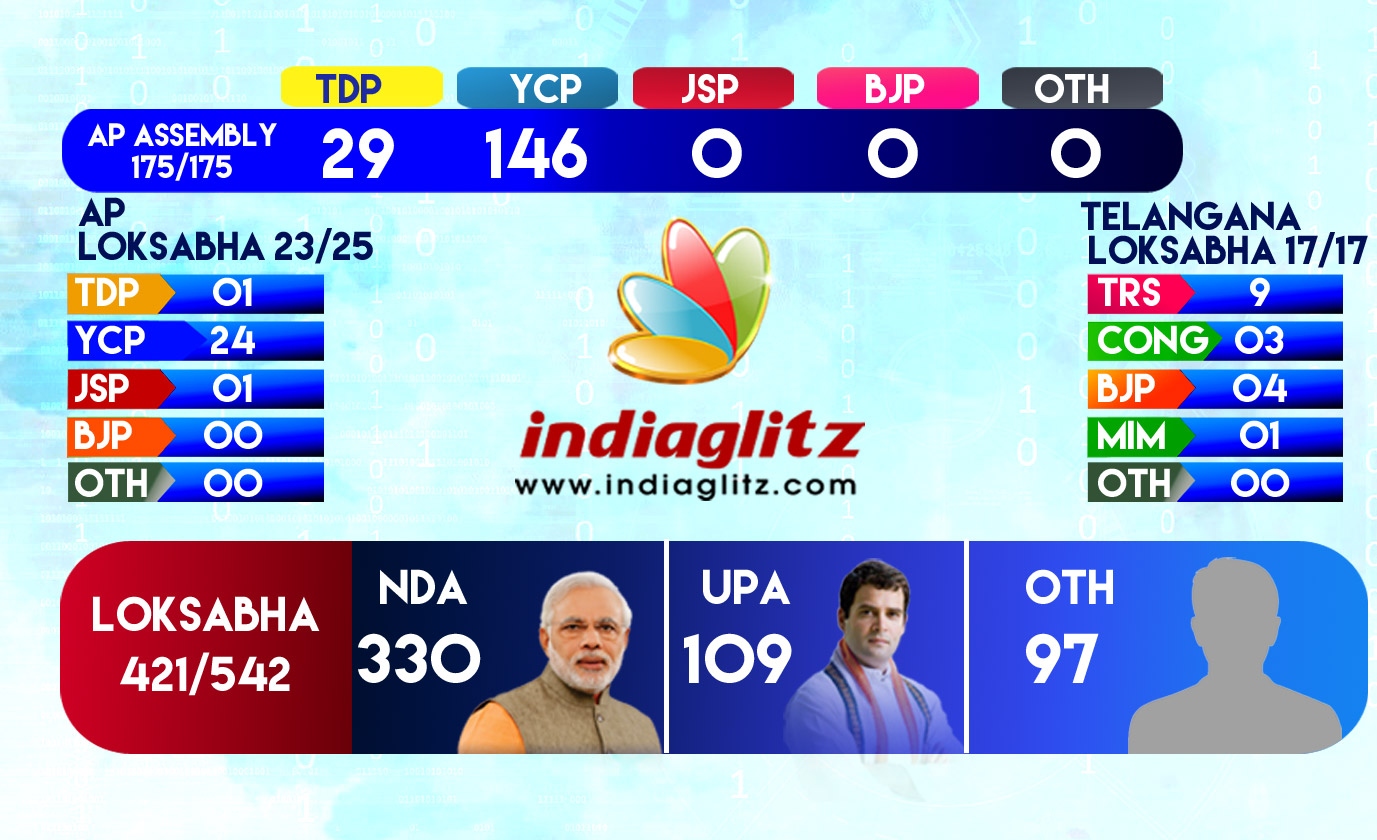 11:00 am :
Hema Malini leads in Mathura, UP.
11:00 am :
Surprise from Karnataka: BJP takes lead in 23 out of 28 seats. Ruling Congress-JDS government rejected by people?
11:05 am :
Some respite for Congress in MP. Takes leads in 8 seats. BJP leads in 20 seats. Not a total wipe-out for Rahul.
11:05 am :
Naveen Patnaik set to be Odisha's CM once again. This will be his fourth term. His party, BJD, is leading by a wide margin over BJP.
11:05 am :
In Assam, BJP set to win 10 seats. Congress and others will win 2 seats each. Landslide saffron wave!
11:05 am :
Oops! Madhya Pradesh again slips out of Congress' hands. BJP leads in 27 seats, Congress in 2 seats.
11:05 am :
Mayawati's party leading in 13 seats in UP. Last time (2014), BSP won zero seats. Her partner, SP, is leading in 10 seats. BJP might win 54 seats in the end.
11:05 am :
Bengal: TMC leads in 23 seats, BJP in 16 seats. Can TMC go down from this number?
11:05 am :
Dyanasty politicians trailing in so many seats across Maharashtra, Karnataka, Telangana, Bengal, Uttar Pradesh and other States.
11:12 am :
BJP candidate Sunny Deol leads in Punjab's Gurdaspur. One of the celebs with an entertainment background who was always expected to be a winner.
11:12 am :
Aam Admi Party may win just one seat in this election. That will be from Punjab. It will be zero from Delhi.
11:12 am :
The question remains: Can UPA cross the 100-figure mark? Most likely yes. Punjab CM Amarinder Singh is the only star of Congress today. Even in Tamil Nadu, Congress is big only because of DMK.
11:17 am :
40 percent votes counted so far. Current status is, BJP is leading in more than 290 seats. Congress may not cross 50 seats if the current trends continue.
11:22 am :
Jharkhand: BJP leads in 11 seats, Congress in 3 seats.
11:22 am :
Himachal Pradesh: All 4 seats see BJP leads.
11:22 am :
Telangana: TRS leads in 9 seats, BJP in 5 seats, Congress in 3 seats.
11:40 am :
Success rate of major leaders: Narendra Modi did 145 rallies (many of them in swing seats). NDA wins in 72%. Rahul Gandhi's success rate is a mere 20%. Priyanka Gandhi's success rate is a mere 12%.
Actress Photos
Gehana Vasisth
Priyanka Sharma
Shruti Haasan
Payal Rajput