Lively, enjoyable
Monday, January 14, 2019 • Telugu Comments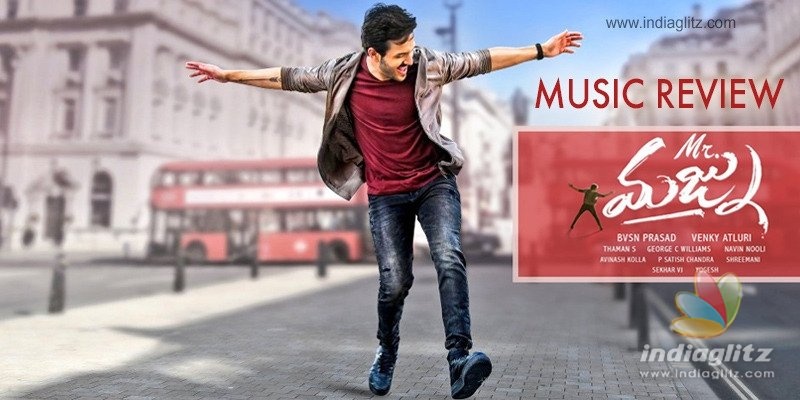 The complete soundtrack of 'Mr. Majnu' is out on Sony Music South. Composed by SS Thaman, its singers are Ramya NSK, Shreya Ghosal, Kaala Bhairava, Armaan Malik, Sruthi Ranjani, Tushar Joshi, Koti Salur, Ramya Behara and Thaman himself.  Srimani writes the lyrics.
Mr. Majnu
Singer:  Ramya NSK
Lyricist: Srimani
Srimani's lyrics position the hero's character as a playboy who is both aggressive and romantic.  Ramya NSK's vocals are a whiff of fresh air for sure and unapologetically offbeat.  Thaman's tune is partly inspired by AR Rahman's 'Urvashi' tune from 'Premikudu'.  The catchiness of the tune aside, the deployment of electric shehnai is creative.
Yemainado
Singer: Armaan Malik
Lyricist: Srimani
Srimani's lyrics give a peek into the mind of the lover boy who is mired in separation pangs.  Simple yet evocative language is the biggest strength of the lines.  Armaan Malik renders the song with panache, taking care not to make it sound melodramatic.  Thaman delivers the goods, his music is definitely deep, complementing the lyrics.
Naalo Neeku
Singers: Shreya Ghosal, Kaala Bhairava
Lyricist: Srimani
The lines are so incisive that they touch the right chords.  Srimani is at his poetic best when he writes this melancholic line: 'Natanaipoda brathukantha.. nalupai podha velugantha'.  The song conceptually appeals independently of the storyline.  This one is Shreya Ghosal's one more soulful rendition for Thaman's music.  Kaala Bhairava is turning out to be dependable when it comes to giving a voice for the agonized soul.  A decent number, overall.
Hey Nenila
Singers: Sruthi Ranjani
Lyricist: Srimani
The melody has an excellent rendition by Sruthi Ranjani.  Srimani's lyrics are striking in their evocative conveying of a myriad of emotions and thoughts.  Once again, this is a decent melody that can rev up your mood on a good day.
Koppamga Koppamga
Singers: Armaan Malik, Thaman S
Lyricist: Srimani
The film is titled 'Mr. Majnu' but the guy doesn't want to be a Majnu. Whatever.  Armaan Malik's voice has got a unique zing, pulsating with youthfulness.  This seemingly post break-up song is lively.  Srimani's lyrics are lovely, especially the metaphors borrowed from Nature.
Chiru Chiru Navvula
Singers: Tushar Joshi, Koti Salur, Ramya Behara
Lyricist: Srimani
One feels the 'raga' is a bit heavy when it was not needed.  The singers do a splendid job, with the main voice breathing life into the proceedings.  The lines are borrowed from the story.
Rating: 3/5