A praiseworthy attempt
Saturday, December 22, 2018 • Telugu Comments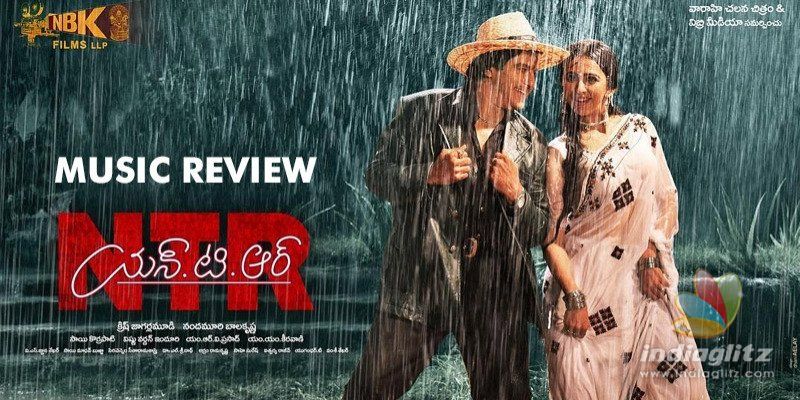 The soundtrack of 'NTR: Kathanayakudu' is out on Lahari Music.  MM Keeravani ropes in Kailash Kher, Chitra, Srinidhi Tirumala, Srinidhi Tirumala, Mohana Bhogaraju and Ramya Behara as singers, besides rendering one of the songs.  K Shiva Datta, Dr. K Ramakrishna, Sirivennela Sitaramasastry and MM Keeravani are the lyricists.
Kathaa Naayaka
Singer: Kailash Kher
Lyricists: K Shiva Datta, Dr. K Ramakrishna
The song is filled with high-sounding epithets meticulously paraphrased for NT Rama Rao.  It's an ode to a legend who knew everything about acting.  The Sanskritic Telugu makes it sound like a 'mantra'.  Keeravani's music is old-fashioned and it's a compliment.  Kailash Kher's high-pitched tempo reminds one of the 'Baahubalian' feel.  All in all, the song has a very familiar flavour and it would have helped had it had a modern touch at least here and there.
Vendithera Dora
Singer: MM Keeravani
Lyricist: MM Keeravani
This surely feels like Vandemataram Srinivas-meets-RGV.  In bringing out agony through his voice, Keeravani sounds too melodramatic to a fault.  Music-wise, it's just a middling tune with interludes of striking sounds.  The lyrics are sociological, announcing the arrival of hope through an agonized voice.
Bantureethi Koluvu
Singer: Chitra, Srinidhi Tirumala
Lyricist: Sirivennela Sitaramasastry
Chitra's soulful rendition sounds the song sound like a devotional.  Srinidhi's voice complements her genius.  Sirivennela's lyrics come with a flourish of poetic usages and noble phrases.  Keeravani delivers a decisively inspired song with sure-shot confidence.
Kathaa Naayaka
Singers: Srinidhi Tirumala, Mohana Bhogaraju, Ramya Behara
Lyricists: K Shiva Datta, Dr. K Ramakrishna
The female version of Kailash Kher-rendered 'Katha Nayaka' is refreshing.  Srinidhi-Mohana-Ramya trio makes it a worthwhile repeat in the album.
Verdict:
The album comes with high-sounding lyrics, NTR-oriented songs.  The singers give a thorough-going output, enabled by Keeravani.
Rating: 3/5