Passes muster
Tuesday, March 3, 2020 • Telugu Comments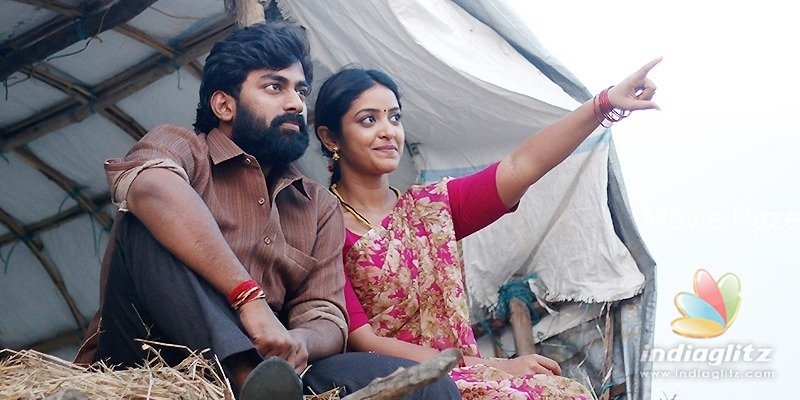 The full jukebox of 'Palasa: 1978' is out, on Aditya Music.  With lyrics by Bhaskara Bhatla, Ravikumar, Suddala Ashok Teja, Lakshmi Bhupala, and Karuna Kumar, its singers are Palasa Baby, SPB, Raghu Kunche, Aditi Bhavaraju, Ramya Bahara, and Sandhya Koyyada.
Ye Ooru Ye Oore
Singers: Vijayalakshmi, Raju Jamuku Asirayya
Lyrics: Bhaskara Bhatla, Ravikumar
The rustic flavour of the song is blended with a native, folksy spirit.  The lyrics are rooted in the local culture.  It helps that two lyricists have chipped in with their appealing lines.  The offbeat vocals add a texture that is rare to come by in mainstream cinema.
Nakkileesu Golusu
Singer: Raghu Kunche
Lyrics: Uttarandhra Janapadam
The genre of this boisterous song is once again steeped in the rural backdrop of the story.  Raghu Kunche's voice comes with the ring of a bygone era.  The Uttarandhra folk song, whose author cannot be determined, is enjoyable.  With striking picturization, this can have the mass as well as class audience enjoy it to the core.
O Sogasari
Singers: SP Balasubrahmanyam, Baby Pasala
Lyricist: Lakshmi Bhupala
SPB brings the old-warm charm along with his impeccable singing flavour.  His pronunciation is flawless as ever and immersive as always.  The female singer is at ease with the genre and her brief, her sweet voice suits the mellowed village belle seen in the visuals.  Lakshmi Bhupala's lyrics draw upon the repertoire of romantic songs whose context has everything to do with the countryside.  Raghu Kunche dishes out a layered musical, deploying the percussions and subhani like a pro.
Bavocchadu O Lappa
Singer:  Aditi Bhavaraju
Lyrics: Uttarandhra Janapadam
This is yet another folk song but, compared to the earlier one in the album, this one sounds somewhat jaded and low-end.  Aditi Bhavaraju's voice is a saving grace amid the not-so-novel lyrics.  Musically, this one can be foot-tapping if you have a mood for an "item" song, a typical, unabashed one at that.
Kalavathi Kalavathi
Singers: Ramya Bahara, Raghu Kunche
Lyrics: Suddala Ashok Teja
Having heard songs in the broadly same category earlier in the album, this one doesn't really excite.  Ramya Bahara is chosen instead of a Mohan Bhogaraju and she doesn't disappoint. Raghu Kunche complements her.  Suddala's lyrics are not without a smattering of doubles entendres.
Chinthachettukinda
Singer: Sandhya Koyyada
Lyrics: Karuna Kumar
The Uttarandhra wedding-time song is fun, coming as it does with non-conformist lyrics.  Sandhya's voice sounds relaxed and sans frills.  The short song makes for a situational song.
Verdict:
A largely middling album with three worthy songs.  The genres of the songs are in tune with the backdrop of the movie.
Rating: 2.75