Soothing and celebratory
Tuesday, September 20, 2016 • Telugu Comments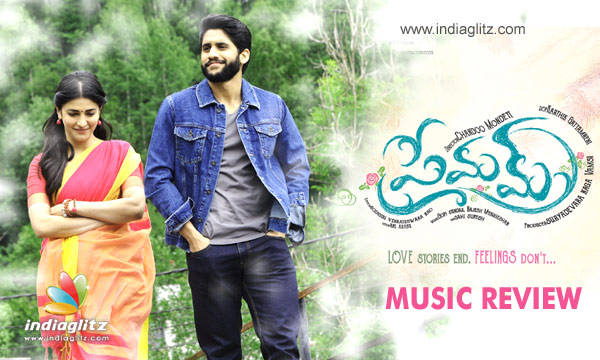 Music directed by Rajesh Murugesan and Gopi Sundar, this one has lyrics by Sree Mani, Purna Chary, Vanamali, Ramajogayya Sastry and Krishna Madineni. Karthik, Vijay Yesudas, Naresh Iyer, Haricharan, Sachin Warrier and Ranjith are the singers.
Evarey
Artist: Vijay Yesudas
Lyricist: Sree Mani
For a film titled as 'Premam', this one comes with the right ingredients. From vocals that spell meaning, to lyrics that bring out the the lover boy's heartfelt emotions with accuracy, to a musical score (by Rajesh Murugesan, the music director of the original version) that presents the old-world charm, the song is everything of these.
Sree Mani's lines come with a familiar poetry largely, but they also throw up high-brow poetry here and there: 'Evarey ee hayiki hrudayamu chalandi' takes the cake. The lover boy is unable to contain the mirth within the confines of his heart. Another line is an all-time high. 'Aa dhaivamey naaku cheppindi epudo, nee chinni chirunavvey viluvaina varamantoo' (The Divine told me ages ago that your smile is an invaluable boon), is a masterstroke.
Vijay Yesudas's mature vocals and the perfection are sure to mesmerize the discerning. A sense of deja vu is expected, given the style of Rajesh's musical score as well as the singer on the board. A soothing melody high on lyrical value, this one is in the mould of the old-school romantic.
Agarottula
Artist: Naresh Iyer
Lyricist: Purna Chary
Rajesh Murugesan maintains the tempo. The retro-sounding music is apt for the village-backdrop mood, besides befitting the age of the characters played by Naga Chaitanya and Anupama Parameswaran. As for Purna Chary's lyrics, they envelope the atmospherics with such poetry as is the stuff of juvenile's imagination as much as it is the adult's entertainment. Having invoked 'agarottulu', 'kasarattulu', 'vennela' and more, the lyricist passes the baton to Naresh Iyer, who pics up the poetry to a scintillating effect.
Ninna Leni
Artist: Karthik
Lyricist: Krishna Madineni
It's a short ditty throwing up classroom romance. Krishna Madineni's lyrics reflect the boy's lovely fantasies with respect to his teacher. Whistling, associated with teenage romance, is deliberate. Karthik's vocals are at their usual best. Rajesh Murugesan once again perks up with instrumentation in tandem.
Prema Pusene
Artist: Karthik
Lyricist: Purna Chary
Conceptually, the song is novel. The music and vocals betray a celebratory mood. The lyrics, in contrast, spell pathos. Tragedy has just been turned on its head. Rajesh Murugesan's music is engaging and Karthik's vocals are easily enthralling. But it's the lyrics which make the best cut. The line 'Addam lo nannu nenu choosukunte, na gunde bujjaginchinattu undhe' (When I look into the mirror, my heart appears to be consoling me) brings out the jilted, cheated lover boy's depressed mindset with a poetic flourish.
Bang Bang
Artist: Haricharan
Lyricist: Ramajogayya Sastry
The song is spiritually modish in outlook. This is the first number of the album to employ English-language words. Ramajogayya Sastry's lyrics are enjoyable, whereas Haricharan's energetic vocals are at their usual best. Gopi Sunder's music passes muster; the song comes across as a rehash of this or that Gopi Sunder number.
Ennosarlu
Artist: Sachin Warrier
Lyricist: Vanamali
Vanamali's lyrics mirror the joy of a romantic guy upon being addressed by his name by that 'special one'. This is yet another jamborific number with easy-on-ears sound. Sachin Warrier's vocals are a big booster shot. There is an element of playfulness throughout the song. Gopi Sunder's music is electrifying and rejuvenating. All in all, a quietly boisterous one.
Evadu Evadu
Artist: Ranjith
Lyricist: Sree Mani
The hero being animated, the music director goes ebullient. This one is an out-of-blue number in an album full of soothing numbers. 'Machi', snake step, moonwalk and rain dance fill the air with a sense of breeziness. Ranjith's striking vocals and Srimani's wordplay are enjoyable. Gopi Sundar plays to the gallery in a good sense.
Verdict: 'Premam' is a melodious and lyrically rich album with seasoned singing. All of them are solo singer performances. And truth to be told, you won't find a female voice.
Rating: 3.25/5