Clearly inspired
Thursday, May 4, 2017 • Telugu Comments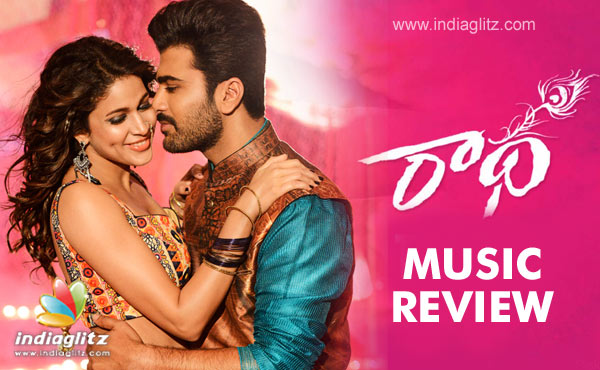 'Radha', music-directed by Radhan, has lyrics by Suresh Banishetty, Srimani, Ramajogayya Sastry and KK. MLR Karthikeyan, Ramee, Sameera Bharadwaj, Ranjith, Priya Himesh and Jithin are the singers.
Kaakki Chokka
Singers: MLR Karthikeyan, Ramee
Lyricist: Suresh Banishetty
When the male lead is a cop, a hero-oriented song is a must. If he is a 'Gabbar Singh' or not doesn't matter. Whether it's a superstar or a Sharwanand, a hero-hailing song is a strict yes. Music director Radhan does a thorough rip-off job for the first song. The tone is folkish and the beats would have been peppy had they not been too inspired. Suresh Banishetty's lyrics equate the hero to God. Befitting the title, terms like 'Gokulam' are brought in. The rhyming lyrics are enjoyable. MLR Karthikeyan's vocals are apt.
Choopultho Guchchi
Singer: Ranjith
Lyricist: KK
Both soothing and playful, this song comes with easy-on-ears music and evocative lyrics. Radan goes for soft beats and carries it out without resorting to too much of influences. There is room for holy chanting- type feel, keeping with the title. KK's lyrics are impressive, with the poetic 'Megham jallai thalonchindile' taking the cake. 'Na Rathamullona side seatu needikakanaka' is another example.
Singer Ranjith croons the song with forcefulness. His vocals have boisterous vibes about them, which is why it's a pleasure to listen to him, whether it's a hero-oriented intro number or otherwise.
Rabbit Rabbit Pilla
Singer: Ramee
Lyricist: Srimani
Tamil nativity, college campus song, pampering the angry heroine,
The song smacks of a strong Tamil nativity. The very tone of the number is irreverent and college campus-like. Not that it's alien, but it could have been more properly adapted. Srimani's lyrics mirror the thoughts of a boyfriend who has to pamper his angry girlfriend. Ramee's vocals fit the bill, although they don't lend themselves for a repeat audience.
Oye Mera Krishuu
Singers: Priya Himesh, Sameera Bharadwaj, Jithin
Lyricist: Ramajogayya Sastry
If title is after Lord Krishna, can an item song wherein the hero is literally sandwiched between two heroines be far away? That's exactly what you get here. And Ramajogayya Sastry ensures that the right words are used to mirror the hero's romantic plight, besides giving voice to the heroines' famed naugitiness. From terms like 'Blockbuster hero', 'Dream Nagaru' and 'Dochuko andam' to 'Dachukunnavi istha', the number has got all the usual suspects.
Priya Himesh, Sameera Bharadwaj and Jithin are asked to be electrifying, but in an understated way. Radhan's music finds its inspirations and references.
Verdict:
A four-song album, it is a full pack. A hero-oriented number, a duet, an item song, a peppy hero's apology, you have them all. Radhan's music is not long-lasting for sure. The lyrics are entertaining. The singers do a good job.
Rating:. 2.75/5