Catching the 'run' mood
Monday, March 14, 2016 • Telugu Comments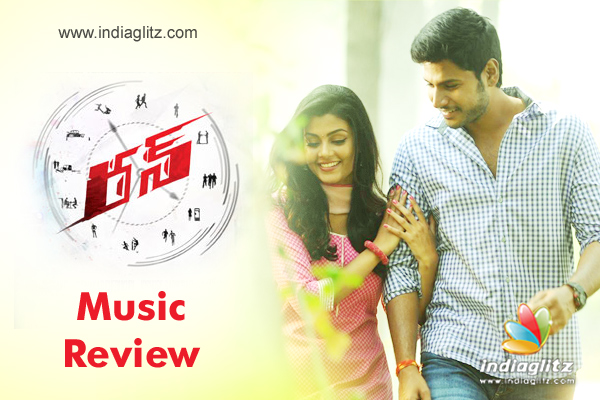 Sai Karthik ropes in Yazin Nizar, Sri Charan, Raghu Kunche, Ranjith for the album. Notably, there is no female singer. All the songs are written by Balaji but for one song, which is by Ramajogayya Sastry.
Bujji bujji konda
Artist: Yazin Nizar
Lyricist: Ramajogayya Sastry
Sai Karthik's song sounds like a cross between his own style and that of Anup Rubens'. The highs and lows as well as the singer's tweaking of the voice, is a bit Rubens-esque. The use of too many English words like selfie, poster, shock, China Wall, cinema could have been avoided. Ramajaogayya Sastry's lyrics are not found wanting in meaning, though. Yazin Nizar's sharp vocals are quite enjoyable.
Amulya
Artist: Sri Charan
Lyricist: Balaji
Balaji once again pens catchy lyrics. Although lyrics related to Titanic are sub-par, lines like 'Butterfly ki choodidhar chuttinattuga' are quite imaginative. Sri Charan's romantic voice is apt for this celebratory number. Sai Karthik's music is vibrant. His instrumentation is engaging.
Bhago Bhago
Artist: Ranjith
Lyricist: Balaji
Ranjith's sharp baritone is apt for a song that mirrors the assertive and aggressive attitude of the protagonist. Balaji's lyrics come with a palpable Telugu nativity, complete with words that befit a star hero. Sai Karthik's beats give a high and mirror the film's fast-paced narration.
Bejawada baba
Artist: Raghu Kunche
Lyricist: Balaji
The loud song doesn't fail to make an impact. Raghu Kunche's electrifying vocals are writ large on the song. His folksy vocals are apt for this energetic number. Balaji's lyrics come with a scent of irreverence. Sai Karthik's beats are full of verve. Aimed at having having the front-benchers whistling big-time, this song will be a hall-time hit for sure.
Verdict: At four songs, this album has good lyrics by Balaji and Ramajogayya Sastry. Sai Karthik belches out promising output.
Rating: 2.75/5