DSP attains the Sardaar peak!
Thursday, March 17, 2016 • Telugu Comments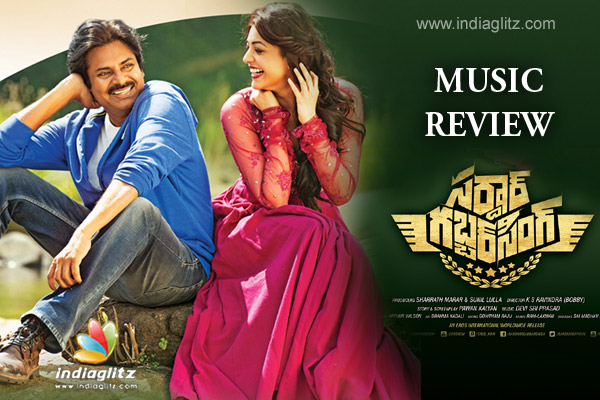 With songs written by Ramajogayya Sastry, Ananth Sriram and Sri Mani, the album is a total dekko. Benny Dayal, Vijay Prakash, Shreya Ghoshal, Sagar, Chinmayee, Simha, Mamta Sharma, MLR Karthikeyan, David Simon are the singers.
Sardaar
Artist: Benny Dayal
Lyricist: Ramajogayya Sastry
Benny Dayal's energetic rendition induces a sense of deja vu as it brings to memory Baba Sehgal's Gabbar Singh. The booming voice goes amiss alright, but Benny has his baritone. As he is crooning 'Choosko guru..', the electrifying DSP effect can't be missed. The lyricist employs phrases like khakhi panther, horse pourudu, India ki famous, veedi lanti polisodu society ke bonus, and such to a good effect.
The Gabbar Singh tune acts as a good interlude. Jo dar gaya, samjho mar gaya is an avoidable reiteration. The lyrics describe the glory of khaki, yet again.
O Pilla Subanallah
Artists: Vijay Prakash, Shreya Ghoshal
Lyricist: Ananth Sriram
If someone told you the song is from SS Thaman, you would believe. DSP employs a style of music for which he is not known. The lyrics are character-based. So, you have the male lead talking about how a cop like him has been arrested by her beauty and such stuff. Ananth Sriram pens lines like 'Godatlo moonchave, malli mobbulo telchave', and 'Naa khaki chokkani rangullo munchave' are impressive.
Tauba Tauba
Artist: David Simon
Lyricist: Ramajogayya Sastry
The quintessential mass number is striking in every respect. The concept is about drawing a parallel between legends and the present day's twins of those legends. The lyrics are immensely amusing. DSP's music allows the lyrics to have a field day. David Simon's vocals are refreshing, and they are a big asset. David is a cross between the class and the mass. The music induces a sense of deja vu. A swashbuckler of a song this!
Nee Chepa Kallu
Artists: Sagar, Chinmayee
Lyricist: Ananth Sriram
The lyrics come with a pronounced romantic feel. The lover boy's adulation for his sweetheart are reciprocated in an equivalent language by the lover girl. Phrases like 'kougilintha danda' are poetic. The tuning comes with a jamborific instrumentation. DSP synthesizes the trendy with the style of a bygone era to a profound musical effect.
Khaki Chokka
Artists: Simha, Mamta Sharma
Lyricist: Sri Mani
The massy number has everything going for it. It's a quintessential DSP number, complete with boisterous beats and electrifying vocals. Phrases like 'aa stylu choosi naa eede railu aindi ro..', 'na pistolu vayisthunde dolu..' and the like come with a sensuous feel, stuffed as they are with doubles entendres. DSP's music is impressive and is a culmination of the many item songs he has composed in the past.
Adevadanna Eedevadanna
Artist: MLR Karthikeyan
Lyricist: Ramajogayya Sastry
The loud beats announce the onset of a bloody fight-to-finish. The interval bang song must be raising the tempo. Thematically, it raises a toast to Sardaar's guts and omnipotence. Music-wise, it doesn't offer any takeaway. All in all, it's a contextual song that will work better as part of film.
Verdict: The album has DSP changing his style a bit. A complete album with duets, hero-oriented songs, and an item number, this one is for the masses and classes alike.