It's folk time, folks!
Saturday, January 2, 2016 • Telugu Comments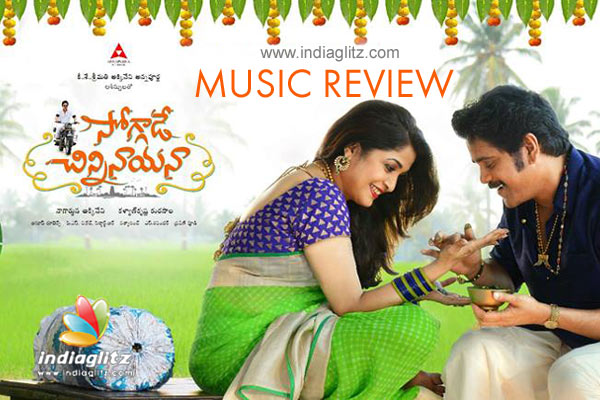 Starting with 'Dikka Dikka Dum Dum', this album throws up more than one melody, but in the end what makes an impact is the folkish feel of it all.
Bhaskara Bhatla, Balaji, KK and Ramajogayya Sastry are the lyricists. Dhanunjay, Mohana Bhogaraju, Shreya Ghoshal, Hari Haran, Kousalya, Malavika and others render different songs.
Dikka Dikka Dum Dum
Artists: Nagarjuna, Dhanunjay, Mohana Bhogaraju
Lyricist: Bhaskara Bhatla
The album begins with a song that encapsulates the naughtiness of the title and the softness of the temperament. Bhaskara Bhatla pens the lyrics in such a way as to neither make the double entendre appear in-your-face nor too non-straightforward. Dhanunjay, Nag and Mohana Bhogaraju chip in with the right kind of folkish vocals for this number. Anup Rubens starts off with a bang. The song's initial lines having been heard over and over again may not catch one by surprise, but the rest of the song is sure to.
Nee Navve
Artists: Shreya Ghoshal, Dhanunjay
Lyricist: Balaji
The song is in the mould of a traditional song of oaths between husband and wife. Shreya Ghoshal delivers the most part of this lyrically rich number and carries the theme through every bit of her voice. Dhanunjay makes an entry in the later stage of the two 'pallavis' and when he does, he sounds like an Anup Rubens singer par excellence. Balaji does a fine job with his meaningful lyrics. Anup does the fine balance between the traditional and trendy.
Vasthane Vasthane
Artists: Hari Haran, Kousalya
Lyricist: Ramajogayya Sastry
It is not frequently that Hari Haran renders a romantic duet in Telugu and when he does, he entertains to the core. Kousalya joins with her mellifluous voice, while Hari Haran reminds one of his combination with Nag for 'Nuvvu Vasthavani'. Ramajogayya Sastry's lyrics are drawn from the old-world textbook and it looks like he has made the lyrics sit well with the folkish mould of the film. Anup Rubens doesn't not do any experiment here, nor does he unveil a new tune.
Unta le unta le nee vente unta le
Artist: Malavika
Lyricist: Ramajogayya Sastry
This ditty scores points for its singer. Malavika has a knack for breathing life into conventional songs with her vocals that have an old-world charm about it. Ramajogayya Sastry pens evocative lyrics. Anup Rubens delivers a melody that is sure to register itself in your minds.
Adhira Banna
Artists: Anudeep, Arun, Dhanunjay, Raghuram, Sampath, Prakash, Lokesh
Lyricist: KK
Although short, this song surely has many takeaways. The group of singers choruse to KK's rhyming lyrics in synchrony. The mandatory reference to Manmadhude apart, this album throws up the folkish attire and usage. Anup Rubens surely clicks with this one.
Verdict: Anup Rubens returns with yet another Nag album. With two short songs, this one is an album at less-than-usual length. Melodies and folkish feel make a mark.
Rating: 3.25/5