Uncompromising and massy
Saturday, January 23, 2016 • Telugu Comments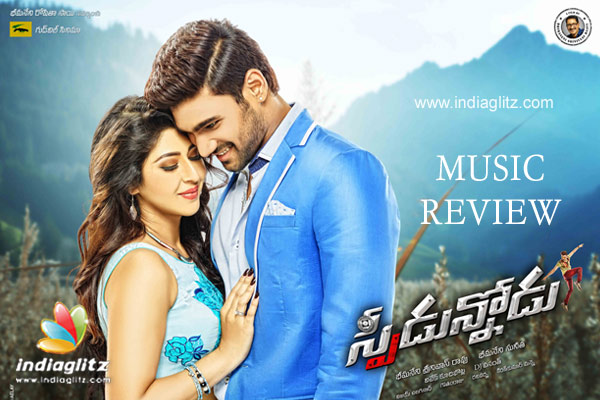 DJ Vasanth of Sudigaadu fame has a greater talent than we knew. The tunes, the choice of singers and the lyrics make the album quite a surprise package.
Sri Mani, Chandrabose, Anantha Sriram, Karunakar Adigarla, Sirivennela Seetharama Sastry are the lyricists.
Revanth, Anudeep Dev, Dhamini, Rahul Sipligunj, Simha, Geetha Madhuri, Ramya Behera, and Shravana Bhargavi are the singers.
Ye Sunami Aina
Artist: Revanth
Lyricist: Sri Mani
The song thrives on the energy of beats and vocals. Revanth's baritone has a strong tinge of soft loudness about it. Sri Mani's lyrics come with their share of English words. The hero's characterization is established. As for the music, it allows enough space for Srinivas to showcase his dancing talent.
Gurranni Cheruvu Daka
Artists: Anudeep Dev, Dhamini
Lyricist: Anantha Sriram
Anantha Sriram's lyrics have a tenderness about them. But this song is tender in the sense that the lyrics sound like children breaking into a dance spontaneously, treating their friend as a 'badava'. Not profound in meaning and most of the song comprises English words. Input, output, upload, update, and even brand names like Fast Track goggles, Timex, Nike, Idea Network are there. Anudeep Dev's vocals are apt and are full of jaunty energy. Vasanth's music induces a sense of deja vu.
Yellow Yellow Dirty Fellow
Artists: Rahul Sipligunj
Lyricist: Chandra Bose
This short song involving comedian Sathya and the heroine is a listener's song. Chandra Bose's hilarious lyrics come with a combination of the native and the non-native. Terms like Swin Flu smile, and Chinese scent are imaginative. Adi Teddy Bear, veedu Dinosaur, adi Mona Lisa, veedu saara seesa, adi masterpiece, veedu kobbari peechu are a laugh riot. Rahul Sipligunj renders this quirky song and the disgust toward the comedian can be visualized. Vasanth's music is retro in its essence.
Ammayini Abbayi Chudagane
Artists: Revanth
Lyricist: Chandra Bose
This song is not full-fledged but the impact is total. Vasanth's tune is imaginative. Chandra Bose's lyrics are laced with words like pituitary gland, prayoga shala, love chemistry, the theme being drawing an analogy or even explaining a process. Revanth is renders the song with admirable tweaking.
Hollywood Hero Lekka
Artists: Simha, Geetha Madhuri
Lyricist: Karunakar Adigarla
It is a mass 'masala' number. The grandeur of the lyrics and the music are big enough to suit the range of a superstar. Karunakar Adigarla's lyrics lace double entendre creatively. Simha and Geetha Madhuri's vocals are energy personified.
Rekkalatho Chukkalakegira
Artists: Revanth, Ramya Behera
Lyricist: Sri Mani
The duet is perked up by the vocals of Revanth and Ramya. Revanth enlivens the number, so also Ramya with her mellifluous and tender vocals. Music-wise, it is first-rate. The instrumentation after each line deserves a mention. Sri Mani's lyrics are among his best works. Simple but evocative.
Aatakundhoy
Artists: Shravana Bhargavi, Revanth
Lyricist: Chandra Bose
This is one song that can be said to be a total rehash from the word go, inspired by this or that song, with almost nothing original going for it. It is the lyrics which are refreshing and new. At times, it is in- your-face. The reference to Milky Beauty suggests who is doing the item number to the uninitiated. The concept again appeals to the mass audience. Revanth and Shravana Bhargavi prove to be the right choice for the song.
Kasai Katthi Padunu
Artist: Revanth
Lyricist: Sirivennela Seetharama Sastry
The short song has profound lyrics by Sirivennela. The theme is around friendship and an intense emotion. Phrases like 'chelimi loni madhurima' reflect the lyricists out-of-box thinking for a song like this. Revanth's vocals are a big asset, forceful to say the least.
Verdict: An album with a range of genres, this one is surprisingly big star like.
Rating: 3.25/5