Anasuya on doing 'Rangasthalam', working with Charan & more
Wednesday, April 4, 2018 • Telugu Comments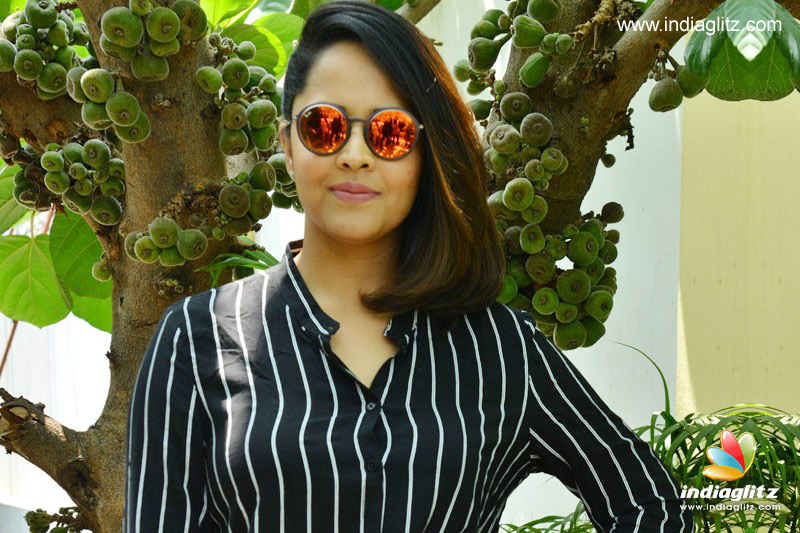 Anasuya Bharadwaj in this interview talks about how the film happened, how it feels looking back, why she doesn't want to do any and every movie, her upcoming movies, and more.
As Sukumar recently said, you were not the first choice to play Rangamattha. You were chosen because of your looks and talent. You too refused to be called 'Attha' by your favourite hero Ram Charan. How does it feel, looking back?
It all started with Mythri Movie Makers calling me up and telling me that Sukumar sir wanted to give me a narration. I had no much confidence in me when the role was first offered. But it was Sukumar garu who instilled confidence. But ever since the film's release, the response has been unexpected. I am very happy.
You didn't use glycerine to cry in the emotional scenes. It must have been quite a learning experience to work with Sukumar?
Yes, very much. Without his support, I wouldn't have essayed the role this well. So, the entire credit goes to him. His direction department too was of great help. Rangamattha hates being leered at by others who take advantage of her. I am glad that everybody is talking about my character.
Did the sets play a role in bettering your performance? After all, the atmosphere helps. It happened for both Ram Charan and Samantha?
Yes, the locales did help a lot. It was automatic somewhat to get into the mood. Throughout the shoot, I was being referred to as Rangamattha by people on the sets. Besides following the director's instructions, I was also helped by the feel of the atmosphere.
How was it working with Ram Charan?
He was very cooperative during the entire shoot. The first-day shoot happened in a boat. I was not feeling comfortable. This is when Charan supported me so well.
And I was saying at the 'Thank You' meet recently, it was breaking to have someone like Charan address me as 'Attha'. I urged the director to avoid it. During the dubbing phase, I understood the character's importance.
Your husband has been very supportive of your dreams. What did he tell you after watching the movie?
He didn't speak anything while we drove back home. This had me ask him curiously for his reaction. And he said that I had finally arrived as an actress with 'Rangasthalam'. I have been in the showbiz for a decade now. And my husband has always been there with me.
Despite 'Kshanam', you didn't capitalize on the success. How do you plan y our career moves?
I always make sure that I am doing a character that was written for me. While many offered me cop roles after 'Kshanam', I didn't do them because I don't want to repeat roles. As a mother of two kids, I also want to essay different kinds of roles. I want to be the lady Prakash Raj. I also notice that people's perception of me has undergone a change after 'Rangasthalam'.
Samantha has become an Akkineni kodalu and she has just had a blockbuster. Do you think she has helped change the perception of married actresses?
Yes, definitely. She has played a female lead after marriage. Such developments are for the good.
You were critical when Vijay Devarakonda glorified the 'M' cuss word at an 'Arjun Reddy' event. Why did you react that way?
I have nothing against anybody. But I felt sad because the word actually demeans a mother. That's why I commented on the issue.
What about your upcoming movies?
'Sacchindi Gorre' is done to the tune of 70 percent. I am also doing two big movies after 'SG'. I will talk about the projects shortly.
Follow us on Google News and stay updated with the latest!
Follow
Actress Photos
Shriya Saran
Priyanka Jawalkar
Poorna
Ketika Sharma