Indiaglitz Exclusive with 'Baahubali' Prabhas
Thursday, July 9, 2015 • Telugu Comments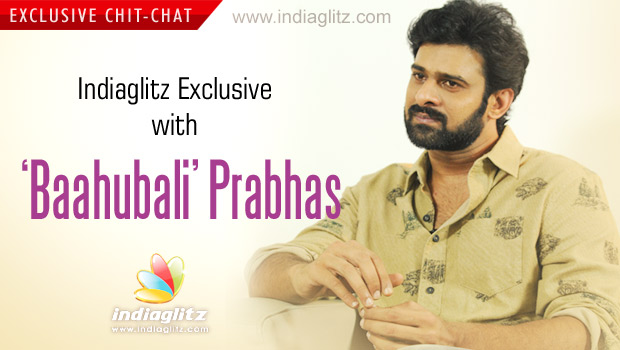 After giving a blockbuster hit 'Mirchi' any star in Prabhas' place would have done two more commercial ventures by now. But the hardworking star has devoted two years for doing the dual roles of father and son in the two parts of the epic 'Baahubali' even cutting down on his remuneration . Here we present to you the dedicated actor's open hearted Red Carpet interview.
You have spent two years on 'Baahubali' tell us what made you do the film without taking up any other project?
By July 10th it is like two years since we started the film and it involved a lot of exercises and sword fights, but this film was shot for three hundred and eighty days and they shot with me for more than two hundred and fifty days. Where do I have time to do another film and further, we decided not to do any film as I had to do rehearsals and practices for the fights in between. It is such a big film and I have two hundred and fifty day to shoot and schedules cannot go as planned. For example the war was planned for a hundred days, but it went on for hundred and twenty days.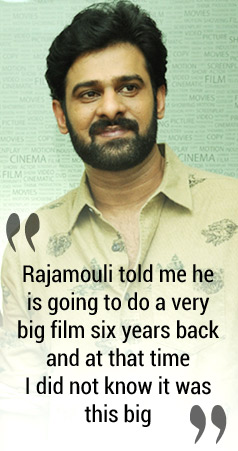 When you first read the script how convinced were you about the film?
Rajamouli told me he is going to do a very big film six years back and at that time I did not know it was this big and four years back he gave me a twenty minute brief narration of 'Baahubali' and with those few scenes I got goosebumps and six months before the start he gave me the full script. The strongest impact of the film will be the visuals, but as you know only visuals will not sustain a film. It is the script and that is why all the films of Rajamouli are hits and till now he has never given a flop. He is very strong in script writing.
Tell us about your relationship with Rajamouli since already in 'Chatrapathi', he gave you a powerful character...
From 'Chathrapathi' I became very close to him and his family and every professional and personal matters I speak to him. I will go to his house at eleven in the night and we will discuss films till four in the morning. He is like family to me and more than that he is my Guru and we are very emotionally attached to each other.
After 'Chathrapathi' it took eight years for you both to work together. Why you didn't do a film together in between?
He must have been busy with his films and so was I. After 'Chathrapathi' till now Rajamouli has done four films in ten years. He started the film 'Eega', he said he will finish the film in four months and he took one and a half years. When he goes into a film he wants it to be a hit, he is completely into the film and you can see his mad passion in the shoot. So the timeline is not important for him. Success is more important. Audiences, distributors, producers are the most important for him. We would have done four or five years back if his films finished on time.
Your last film 'Mirchi' was a super hit making 50 crores. Any other star would have made a film with the same director. Why you chose 'Baahubali'?
We had decided to do this film before 'Mirchi' and anyone can get a film like 'Mirchi' but 'Baahubali' is not easy and one should be lucky to be in it though I never believe in luck, I think I should start believing in luck from now on. 'Mirchi' is nothing compared to 'Baahubali'. This is a once in a lifetime film for me.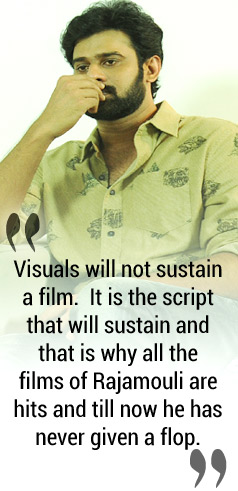 You have devoted your life for the past two years for 'Baahubali' which was obviously physically demanding. Tell us about your character?
Sword fighting, rock climbing, horse riding , workouts in the morning and evening. There are two 'Baahubali's so it is like father and son Amarendra Baahubali and Mahendra Baahubali. Shivudu is a free spirited guy and he does not know what is his destiny till the last scenes of the first part and he grows up in a tribal family and he is a free spirited and happy person and in the whole of 'Baahubali' he is the only entertaining character. Amarendra Baahubali is a great father and is the greatest warrior you have ever seen. You know, for Rajamouli his heroes are always super heroes and in this one you can see that for he has written the character as the greatest warrior, a beautiful soul, strong character and he is emotional and he has a lot of twists and turns in his life which he needs to face in part one and part two.
In 'Baahubali', Rana is also having an equal role as he is the villain, his character too comes across as very powerful in the trailer. Tell us about your on screen chemistry with Rana…
This is called multi starrer film because of Rana, who is a hero and he is doing the villain in this film. He has a very powerful character in this film and I saw a few of his scenes and he has done an extraordinary job and his character ages from 20s to 30s to 50s to 60s and again I have to say he has done an extraordinary job. Before the film he and I were just casual acquaintances and in the first schedule, we became a little closer, in the second schedule, we became friends and in the third schedule we became best friends and we started talking personal things. Now it is like everyday we speak to each other four or five times and whenever we are in Hyderabad we meet and even after this interview I have to meet him as he just called me. I got a good friend through 'Baahubali' and I have a super rapport with him and we have so much fun. Rana and Sathyaraj sir took care of the entertainment on sets and whenever Rana did not have shoots we missed him when he was away for fifteen or twenty days.
Did Rajamouli tell you about Rana's role?
Yes, he told me about it and in his movies the villains are a big asset. In all his films he sees to it that the villains are so strong that there is some tension till the last minute of the film. He always works like that. For him the villain is the most important and that is why he wanted Rana in this film.
Is Tamanaah the heroine in the first part or Anushka?
Tamanaah is the heroine in the first part and in the second part Anushka is the heroine. In the second part both the heroines are there. With Anushka this is my third film and the previous films 'Mirchi' and 'Billa' were super hits and hopefully 'Baahubali' too becomes one.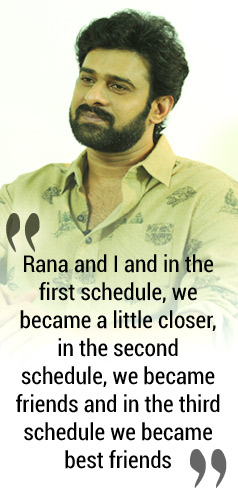 Tell us about your experiences with Tamil actors Sathyaraj and Nasser?
I have already done 'Mirchi' with Sathyaraj sir in which he played my father and I have loved his films and since I was born in Chennai I have watched lots of his films and his performances always had a tinge of humor in them. I knew he was a big star, but he is a
Follow us on Google News and stay updated with the latest!
Follow
Actress Photos
Tamannah
Sony Charishta
Ritu Varma
Rashi Khanna
Get Breaking News Alerts From
IndiaGlitz