'Keshava' is not the same: Ritu Varma
Tuesday, May 16, 2017 • Telugu Comments

Listen to article
--:-- / --:--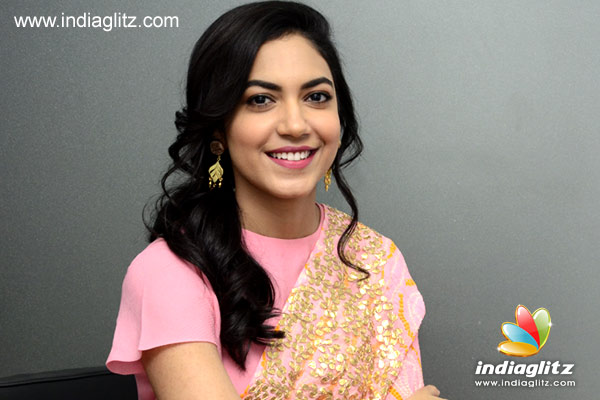 Ritu Varma of 'Yevade Subrahmanyam', 'Prema Ishq Kadhal' and 'Pelli Choopulu' fame awaits the release of 'Keshava' on May 19. In this interview, the budding actress describes herself as a choosy artiste, and talks about the latest release. Read on.
What is your role in the movie?
I play a small-town girl by name Sathyabama. She is a law student. Nikhil Siddhartha, Priyadarshi, Kaushik and another friend are her college friends. When she doesn't know why the hero is on a murderous spree, she doesn't support him. But when he comes to know the reason, she starts supporting him.
While in 'Pelli Choopulu' I was an entrepreneur, in 'Keshava', I am a student and less mature.
Are you doing any action?
I haven't done much action. In the pre-climax phase, there comes a chasing scene, though. There are a couple of such intense scenes involving me.
So far, I have been associated with feel-good movies exclusively, but 'Keshava' marks a change. I like Sudheer Varma's taking in 'Swamy Ra Ra' and 'Dochey'.
How different is the movie from typical crime-thrillers?
It's an intense revenge drama whose hero is not omnipotent, but someone who has a rare heart disorder. It's a rare concept movie. When you watch it, you will understand that it's not predictable at all.
There are no dance numbers as such. All the songs are montage ones and they take the story forward.
Have you got scenes with Isha Koppikar?
I hardly have a couple of scenes with her. Isha Koppikar was excited to be back in Telugu after a long time. Although she is very experienced, she is quite down to earth.
What is your takeaway from 'Keshava'?
Every experience teaches you something or the other. Yes, I have learnt something by working on the movie.
Why are you not seen doing as many movies as you should? Is it because you don't want to do glamorous roles?
I am a choosy artiste. I am in talks with some projects, which I will announce soon. After 'Pelli Choopulu', the audience's expectations have naturally gone up as it won the National Award. I am doing Gautham Menon's movie in Tamil, starring Vikram. The director is a chilled out person and it's a pleasure working with him. He is liking my Tamil and wants me to dub for myself. I had a crash course in the language a year ago and that's all. It helps me read the lines before going to sets.
I very much like to do glamorous roles as well. However, it should have got substance. I can't just stand there and be a pretty face!
For me to accept a movie, there should be something exciting. Overall, the package has to be nice.
There is a misconception that you are a Telugu girl.
I was born and raised here. That's why I am called a Telugu girl. I like it when people call me one.
What difference do you see between Kollywood and Tollywood?
But for language, everything else is the same. They are as professional and patient as people are here.
Follow us on Google News and stay updated with the latest!
Follow
Actress Photos
Rashi Khanna
Keerthy Suresh
Yaashika Aanand
Aishwarya Dutta