Filled with verve
Tuesday, December 29, 2015 • Telugu Comments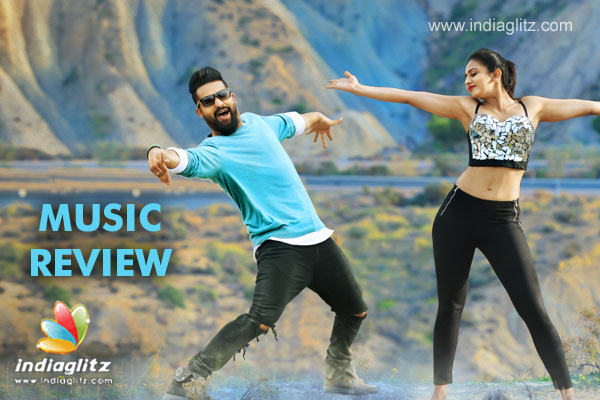 DSP chooses to rehash some of his well-known numbers for this album. Penning lyrics for a song himself, he draws from the creativity of Bhaskara Bhatla and Chandrabose. NTR sings the first song, opening the album with a feast. DSP, Sharmila, Raghu Dixit, Sooraj Santosh, Deepak and Shravana Bhargavi are the singers.
Follow Follow
Artist: NTR
Lyricist: Devi Sri Prasad
NTR opens the album like the Young Tiger he is known to be. 'Follow Follow' is a male solo number where NTR graduates to a higher level from what he did for his last song. Although his vocals seem familiar to begin with, he carves out a distinct zone for himself as the song progresses. Devi Sri Prasad's lyrics are easy on ears; he makes some alliterative magic by repeating a word. The same are in step with his beats. All in all, the song works also because of its music. The music is quintessentially DSP, although it can'be be said if it is quintessentially Sukumar.
Naa Manasu Neelo
Artist: DSP, Sharmila
Lyricist: Bhaskara Bhatla
The song essentially belongs to DSP - his energy and energy. He renders the song in his imitable style, with Sharmila supplementing his electrifying effect well. Bhaskara Bhatla intersperses words in Telugu and English to pen lines that appeal to all kinds of audience. Music wise, DSP is not exactly in his elements. He has simply rehashed some of his well-known tunes, especially the ones in his early years of career.
Dont' Stop
Artist: Raghu Dixit
Lyricist: Chandrabose
It is time for Chandrabose to write some inspirational literature in the form of easy-to-understand lyrics. With straightforward yet profound similes, he writes lines that are particular to the story as well as universal in essence. Raghu Dixit's vocals are apt for a star like NTR as well as for a title like this. DSP prefers electrifying instrumentation and beats. More than the tuning, it is the instrumentation that takes the song to another level.
Love Me Again
Artist: Sooraj Santosh
Lyricist: Chandrabose
Sooraj Santosh's vocals are refreshing. For an intensely emotional song, Sooraj Santosh fits the bill with his knack for mirroring emotions through his voice. The highs and highs are a treat to hear. Chandrabose pens the lyrics for this story-oriented song with remarkable finesse. His lines are definitely laden with meaning, although heard as distinctly from the story, they don't convey the intended meaning. DSP marshals his style of delivery and the lyrics coalesce around his sense of the music.
Love Dheba
Artists: Deepak, Shravana Bhargavi
Lyricist: Chandrabose
DSP prefers to go for a standard cultural music and adds Tollywood popular mass-y style to come up with a rich mix of a song. The tuning is impressive and is electrifying. Deepak and Shravana Bhargavi have the right vocals to render this song in a maverick style. Chandrabose's lyrics make a mark with their in-thing feel.
Verdict: Devi Sri Prasad, Sukumar and NTR are an exciting combination. This album brings out this uniqueness in its choice of lyrics. It is not vintage DSP at his best. All that you can expect from this album is good dose of energy and verve, DSP-style, NTR-style.
Rating: 3/5