I don't care about anyone's opinion anymore: Swathi [Exclusive Interview]
Thursday, November 5, 2015 • Telugu Comments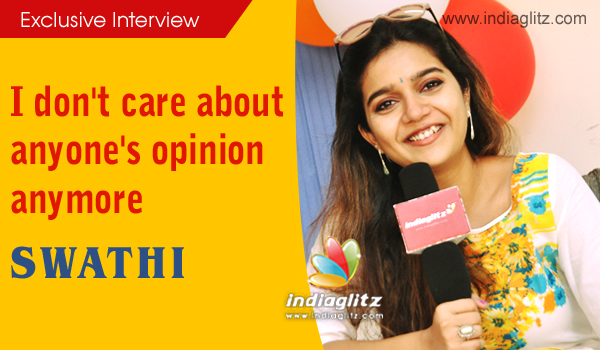 Actress Swathi is looking forward to her forthcoming horror-thriller Tripura which is lined up for release on November 6. She gets candid about her films, love and marriage in an exclusive interview with Indiaglitz.
You tried a different character as a typical housewife in Tripura. How did you prepare for the role?
I knew that I have to look different for this film. I gained about 6 kilos to look matured and a bit innocent as a newly married girl. You see me wearing synthetic sarees, sporting long hair with a new body language. It's challenging to do such roles. I am now struggling to shed those extra kilos.
Compared to your previous films, how different is Tripura going to be?
The better the freedom I get, the better I can act. In Swamy Ra Ra, I played a naughty girl, while in Karthikeya I looked like a calm girl. I purposely dressed up for my roles. For Tripura, I play a village girl and tried to look like that.
Have you had any super natural experiences in real life?
I don't have any experiences as such. I don't get scared for anything easily. May be I don't know. I try to scare people around me.
Besides movies, what excites you the most?
Other than films, I like to be with my family, love eating, like watching videos of puppies and reading books. There is so much more to life than cinema.
What kind of books you would love to read?
If it is written well and if it holds my interest, I will read any kind of book.
After 100% Love, why didn't you continue singing?
I am striking a balance between my films. I am not a professional singer. Even though some music composers offered me the chances, I couldn't take them up because of my commitments. If I have time I would love to sing more songs. But, acting is always my priority.
Do you miss your personal life?
I was never been so busy. I enjoy life to the fullest.
How do react to rumours?
Yesterday night I came across an article that I am open to glamour roles or skin show. I really don't know from where such stories come from. I have acted in movies that came my way. I have never done a film that doesn't suit me. I know what I am good at doing. It's time everybody supports people and let them who they are and encourage them for their differences instead of constantly trying to brand them for their interests. It's difficult to do glamourous roles.
How do you define glamour?
Sridevi garu has set a benchmark for glamour. She never looked vulgar in any of her roles. She is a perfect example for glamour.
How do you define love?
Love means accepting someone unconditionally and being honest and supportive.
When are you getting married?
I don't know. Since I was born in Russia, none of the astrologers predicted my horoscope appropriately. Recently, on his birthday Bollywood actor Shah Rukh Khan gave a message to women on marriage. He said," jab hoga ho jayega and keep working." Well, I go with that answer.
Will it be a love or an arrange marriage?
I neither prefer love nor arranged, but I will give preference to marriage.
Do you continue working in films post marriage?
I have not planned anything. But, after marriage I have to give some space to my partner and concentrate on becoming a housewife.
It seems you have taken a spiritual route…
If I speak normally, people say I am trying to be diplomatic. If I confidently say something, you think I am arrogant or have pride. Everyone is entitled to have an opinion. I don't care about anyone's opinion anymore.
You reacted very furiously to one of your followers comment on social media. Why was that?
One guy called me an aunty. It's not a bad word that I have to feel embarrassed to put up with. My mother or my aunties are strong women. I don't like if someone tries to project aunty as a derogatory word.
How was it working with Naveen Chandra?
It's a fantastic experience. He is talented and sincere. He never invaded my privacy. He is very passionate about films and one gets a lot of enthusiasm seeing him.
Anything you would like to say to our viewers?
I wish the viewers of Indiaglitz a very happy and safe Diwali. Keep it clean and watch out for your pets.
Related News
Actress Photos
Kriti Sanon
Nidhhi Agerwal
Esha Gupta
Priyamani