A melange of tracks
IndiaGlitz [Tuesday, October 1, 2019 • తెలుగు] Comments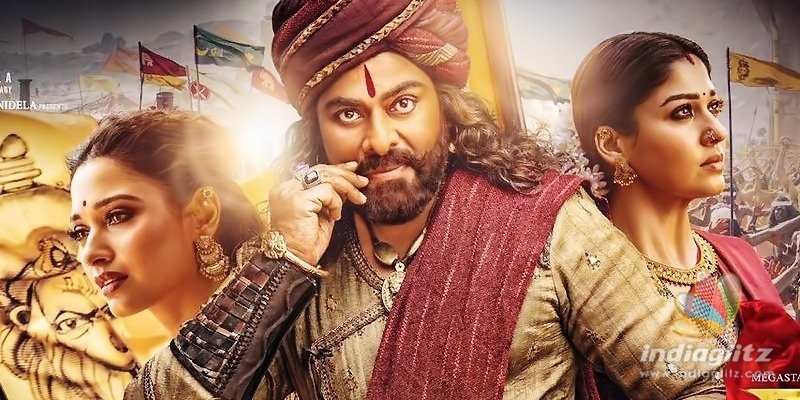 The 'Sye Raa' album is out, on Lahari Music.  With lyrics by Sirivennela, Anantha Sriram and Chandrabose, it brings together Sunidhi Chauhan, Shreya Ghoshal, Shankar Mahadevan, Haricharan, Anurag Kulkarni, Vijayprakash, and Shashaa Tirupati.  Bollywood music director Amit Trivedi is the composer.
Title track
Singers: Sunidhi Chauhan, Shreya Ghoshal
Lyrics: Sirivennela Seetharama Sastry
Sastry's lyrics establish Narasimha Reddy's heroism and valour with high-sounding language.  There is a ring of been-there-done-that but the honesty of the number obliterates all pessimism.  The singers are given the task of making the song sound stylized, as can be seen in the way they render it with a touch of modishness.  The 'raga' passes muster.  One wishes it's a theme song that comes on and off in the course of the movie.  All in all, the lyrics sound majestic and the tune should have been much better.
Jaago Narasimhaa Jaagore
Singers: Shankar Mahadevan, Haricharan, Anurag Kulkarni
Lyrics: Sirivennela Seetharama Sastry
This song is Mickey J Meyer-meets-MM Keeravani.  There is nothing original about its 'raga'.  The singers do a splendid job of making it sound jaunty and energetic.  The lyrics capture the atmospherics of the setting quite well.  Sirivennela puts the right words into the mouths of the hoi polloi surrounding the protagonist.
Andam Ankitam
Singers: Vijayprakash, Shashaa Tirupati
Lyrics: Anantha Sriram
The Bollywoodized-song is appealing despite its familiarity.  The male singer's voice strikes instant familiarity.  Anantha Sriram's lyrics dignify the love story between the protagonist and his woman.  The chaste lyrics sit well with the film's genre and time period.  The tune could have been far more stirring.  All in all, it's tries to be a majestic romantic song.
Swaasalona Desame
Singer: Haricharan
Lyrics: Chandrabose
For a film set in the mid-1850s, this song sounds quite 21st Century.  It could a song from a modern-day patriotic movie.  The relaxed style of the song is neither catchy nor novel.  The tune does sound soul-stirring here and there.  Haricharan's heavy voice reminds us of the earnestness of a Shankar Mahadevan.  Chandrabose's lyrics perk up easy-to-understand language to a new level.
Verdict:
The album is a mixed bag.  The title track is majestic but the overall impact of is muted.  There are inspired tunes.  The lyrics cover themselves in glory, the singers prove to be efficient.
Rating: 2.75/5