A Thaman Musical
IndiaGlitz [Friday, September 3, 2021 • తెలుగు] Comments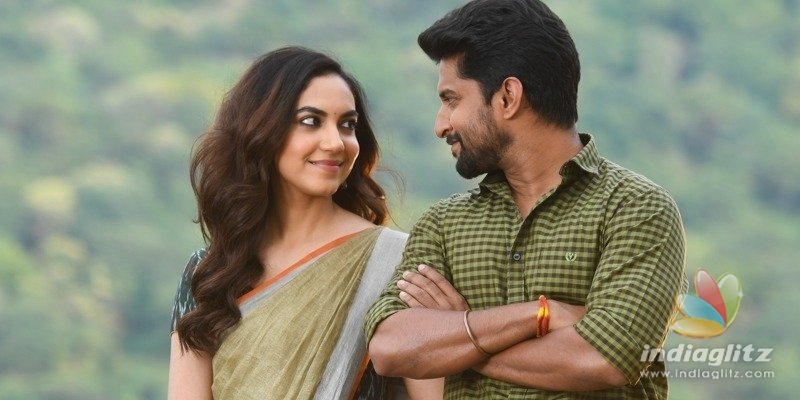 The first single from 'Tuck Jagadish' is out, on Aditya Music. Here is our review. The other songs will be reviewed as and when they are out.
Inkosaari Inkosaari
Singers: Shreya Ghoshal, Kaala Bhairava
Lyricist: Chaitanya Prasad
Chaitanya Prasad's lyrics are poetic and profound. The line 'Neerendello naa gundello, punnagalaa poochavemo' takes the cake. Somewhere, the lyricist also uses the words 'ninnu kori', which happens to be the first Nani-Shiva Nirvana outing. As mellifluous vocals taking a duet to another level go, Shreya Ghoshal nails it. Kaala Bhairava's voice has got the thrust of an Anurag Kulkarni's voice. It's a winsome song from Thaman, who is rarely trusted with softcore songs.
KoloKolannaKolo
Singers: Armaan Malik, Harini Ivvaturi, Sri Krishna, Thaman S
Lyricist: Seetharama Sastry
The mood of the song is mellowed, while at the same time being celebratory. A festive mood hangs over the song, which features a get-together. Armaan Malik lends the song a sublime charm in company with the three other singers. Seetharama Sastry's lines are profound. For the celebrated lyricist, situations of this sort are his forte. Thaman, who started reinventing himself with 'Aravindha Sametha', delivers yet another soothing song.
Tuck Song
Singer: Shiva Nirvana
Lyricist: Shiva Nirvana
After 'Kolo Kolanna Kolo' and 'Inkosaari Inkosaari', which were composed by Thaman, the makers of 'Tuck Jagadish' have come up with a Gopi Sundar-composed song that gives a glimpse of Nani's gutsy character. It's much like how the film's teaser elevated his character in the shape of a folkish song. The beats are foot-tapping, the mass elevations are okayish.