My dad too cried when I cried after watching climax: Manjima Mohan
Tuesday, November 1, 2016 • Telugu Comments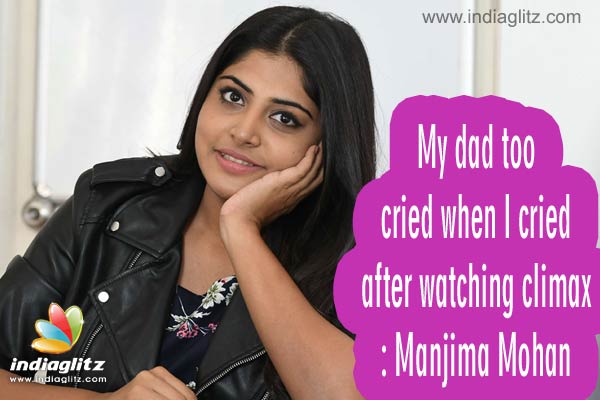 Manjima Mohan, Gautham Menon's heroine of 'Sahasam Swasaga Sagipo', in this interview shares the experience of working for the movie with the director and Chay, her father's role in making her an artiste and more.
How did 'Sahasam Swasaga Sagipo' happen to you? What's your character in the movie?
I started off as a child artiste and debuted as a heroine in 'Oru Vadakkan Selfie' in 2015. Gautham Menon sir called me up after watching the trailer of 'OVS'. When I auditioned, I thought it was only for the Tamil version. When he told me that I would be playing female lead in Telugu version as well, I expressed doubts over my language abilities. But Gautham sir assured me of my ability to pull it off. I trusted him totally and went for 'SSS'.
I am playing a simple girl by name Lila. I am the sister of Chaitanya's friend. The first half is in rom-com mode and the second half, is thrilling.
I did undergo pressure when the release was delayed. But Gautham Menon sir would tell me that one needs to be patient to bring out good output.
Have you learnt Telugu after all these months?
It was a nice experience acting in a Telugu movie. Earlier, I had known only Malayalam and Tamil. Telugu was an alien language to me before. But since I have done 'SSS', I have now got a certain grasp of the language.
Was it a problem to act with two different actors at the same time?
It was not a problem doing the same role opposite two different actors, but it was a challenge to enact the same scene in different ways for the two versions. Thankfully, both Simbu and Naga Chaitanya supported me totally. Even before we went on the floors, Chaitanya taught me some Telugu. I did the scenes after learning my lines.
Tell us about your experience of working with Chay.
Naga Chaitanya is a very good co-star. He would make me feel comfortable on sets. The atmosphere would be jovial in his presence. He supported me in delivering the lines. He would discuss with me how to do the scenes. I would feel uncomfortable doing romantic scenes, in which case Chaitu would come to my rescue by offering tips. I am not a trained actress.
How did your entry into movies happen?
My father is a cinematographer in Mollywood. He asked me to act in a movie when a child artiste was needed. That's how I entered as an artiste. When I wanted to become a heroine, I expressed the intent to my father, who asked me to first complete studies. I waited for his nod till I was done with degree. Since dad had a good grasp of the industry, I didn't have to face many problems.
I became emotional when I watched the climax of 'SSS'. My dad too cried upon seeing me cry. It was then that I understood that dad is satisfied about my acting. He doesn't often give me advises.
Do you watch Telugu movies?
I am not used to watching Telugu movies. But I know of Chiranjeevi garu, Nagarjuna garu and Allu Arjun because their films would be/are dubbed into Malayalam. I have watched 'Ye Maya Chesave', 'Manam' and 'Nenu Sailaja' in Telugu.
Actress Photos
Srushti Dange
Gargeyi
Avika Gor
Ayesha Singh