Bhumika on 'MCA', future plans, & more:
Friday, December 29, 2017 • Telugu Comments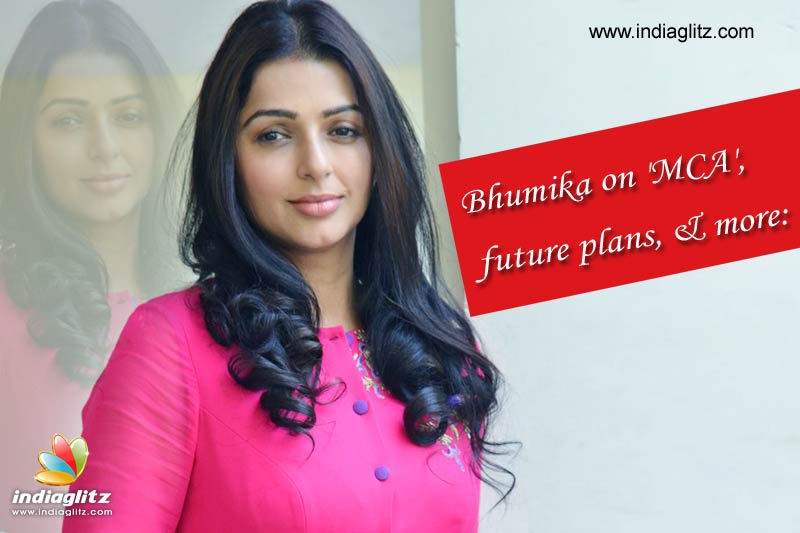 Bhumika Chawla is in the news for playing the role of Nani's 'vadina' in 'Middle Class Abbayi'. In this interview, she talks about the experience of doing the movie, Nani, Sai Pallavi, and more.
How was it playing the role of a sister-in-law?
It was great. I worked on 'MCA' three years after doing a Telugu film. It was all the more special because I hadn't played such a role before.
How have people reacted to your role and performance? What kind of feedback are you receiving?
Everybody is loving the film and my character. All the messages that I have received personally have been very positive. The audiences are finding the chemistry between me and Nani quite interesting.
How do you take stock of your journey as an actress thus far?
In Hollywood, actors and actresses act in films even after they turn 60 years. Same holds good in Hindi, too. In Telugu, there is this preconceived notion that an actress' career is finished once she gets married. This mindset has to change. I want to continue to do novel films from time to time.
What all characters have given you the utmost satisfaction in your career?
'Anasuya' and 'Missamma' have given me the utmost contentment. I like the characters I played in these movies.
How was it teaming up with Nani and Sai Pallavi?
Nani is quite a good actor. He is a completely different man as soon as the camera is on. Although he has been scoring hits, he is a simple man. He is such a wonderful human being. Coming to Sai Pallavi, she is a bundle of energy. She had learnt the things before entering movies.
I have worked with so many producers. And Dil Raju garu is one of the best producers. He takes care of everything like a family member.
Whose idea was it to let you dub for your own character?
After watching the movie, I thought I should dub myself. I have always liked the idea of lending my voice to my own character. I want to do it for 'Savyasachi' as well. Let's see how it turns out.
How has it been being a mother, a wife and an actress?
I have been able to manage the things because of my family's support. My girl cousin lives with him and her support has been immense.
What are your upcoming movies? Have you signed any new movies in Telugu?
'Khamoshi' in Hindi is ready for release. It's a thriller. In Tamil, a film with Prabhu Deva got released on Friday. I am yet to sign up for any new movie in Telugu. Let the films waiting to be released come out first.
Related News
Actress Photos
Anupama Parameshwaran
Rashi Khanna
Aishwarya Rajesh
Payal Rajput