Will Smith Takes On The NFL In 'Concussion' Trailer
Tuesday, September 1, 2015 • Tamil Comments

Listen to article
--:-- / --:--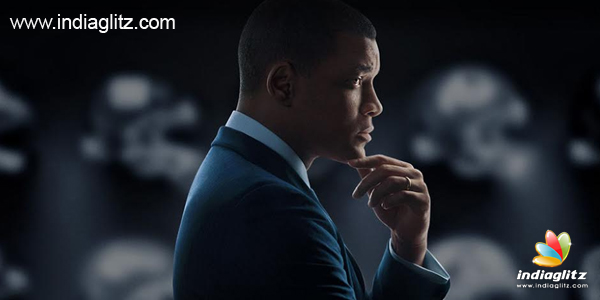 One of the few superstars who has the power to pull in crowds just with his enigmatic presence on screen, Will Smith hasn't been the superstar for his fans world over in recent times. His last three films 'After Earth' (2013), 'Winter's Tale' (2014) and 'Focus' (2015) haven't really sparked the viewer's interest as much as any of Smith's previous films had. That being said, the actor recently wrapped up work on one of next year's most anticipated films 'Suicide Squad'.
Meanwhile, the charismatic actor will be appearing in the sports drama film 'Concussion' set for a Christmas release later this year. Will Smith plays Dr. Bennet Omalu, a forensic neuropathologist makes the first discovery of CTE (Chronic traumatic encephalopathy), a contact sport-related brain trauma. In 'Concussion', we see Smith take on the National Football League and their stance on the issue of CTE.
'Concussion' is directed by last year's critical hit 'Kill The Messenger' writer Peter Landesman. The trailer gives us glimpses of the brilliant actor in Will Smith ever since his powerful dramatic Academy Award nominated performances we had gotten to see in films like 'Ali' (2001) and 'The Pursuit of Happyness' (2007). It won't be a surprise if the actor ends up in another Oscar conversation considering the sensitive subject of the film.
Check out the film's trailer below:
Here is the film's official synopsis:
"Will Smith stars in Concussion, a dramatic thriller based on the incredible true David vs. Goliath story of American immigrant Dr. Bennet Omalu, the brilliant forensic neuropathologist who made the first discovery of CTE, a football-related brain trauma, in a pro player and fought for the truth to be known. Omalu's emotional quest puts him at dangerous odds with one of the most powerful institutions in the world."
'Concussion' has a strong ensemble cast featuring the likes of Alec Baldwin, Luke Wilson, Adewale Akinnuoye-Agbaje and others. The film is being produced by Village Roadshow Pictures, Scott Free Productions and The Shuman Company and is being distributed by Columbia Pictures. 'Concussion' will face some heavy competition when the film goes head on against films like Quentin Tarantino's 'The Hateful Eight', 'The Birdman' director Alejandro González Iñárritu's 'The Revenant' starring Leonardo DiCaprio and of course, the biggest film of this year 'Star Wars: The Force Awakens', which is set to have an enormous opening when it releases a week before on December 18.
So, are you excited to watch Will Smith's dramatic performance or do you prefer his blockbuster action roles? Let us know in the comments below!
Follow us on Google News and stay updated with the latest!
Follow